100 Days to Go until London 2012 Olympic Games
On July 27 2012 the eyes of the world will be on the UK, as the Olympic Games begins in London. Around the world one hundred British Embassies and High Commissions are celebrating 100 days to go until the London 2012 Olympic Games.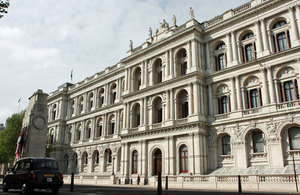 From Riga to Rangoon, Kingston to Kuala Lumpur, British diplomats will join Olympic and Paralympic athletes and local people to celebrate the greatest show on earth. See examples of activity from around the world in our online round-up via Storify.
One hundred metre races will be held on canoes and bikes, in swimming pools and running tracks. In Miami one hundred people on one hundred bikes will take part in an Olympic themed community ride on South Beach. The ride will be led by Lennox Lewis, the 1990 heavyweight boxing Olympic Gold medallist and former UK and world heavyweight boxing champion. Also taking part are Miami Beach Police squad cars, an open top London Double Decker bus and a Mini.
In Istanbul six Turkish Olympians will take part in a 100 metre race in Istanbul's Taksim Square (the equivalent of Piccadilly Circus). In Caracas athletes from the Venezuelan Olympic and Paralympic team will race children from schools in underprivileged neighbourhoods of Caracas. In Wellington there will be a 100 metre race from the New Zealand Parliament to the High Commission. Plans for other iconic locations for events will include a 100m run by the Brandenburg Gate in Berlin; at the 1984 Olympic Stadium in Sarajevo; and in the Palace Square in St Petersburg.
Speaking to mark the 100 day milestone, Foreign Office Minister for the Olympic and Paralympic Games Jeremy Browne said:
"I'm delighted that British Embassies around the world have come together to mark 100 days to go to the Opening Ceremony of the greatest show on earth, the London 2012 Olympic Games.
"I am extremely proud that by working with British businesses and using British engineering, design, creativity and ingenuity we have completed the Olympic venues on time and within budget. The Olympic Park is a testament to British excellence, using architectural vision, cutting edge materials, and manufacturing expertise.
"With 100 days to go, we are ready to welcome the world."
To mark 100 days to go, the Foreign Office has produced a celebratory short film about the journey to the Games. Double gold medalist Dame Kelly Holmes, London 2012 Organising Committee Chair Sebastian Coe and FCO Minister for the Olympics Jeremy Browne have recorded video messages to mark this milestone.
See the all these videos in the playlist below:
Published 18 April 2012