100 Days to Commonwealth Heads of Government Meeting
Lord Howell on re-shaping the Commonwealth as the network we need for the 21st Century.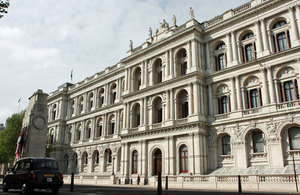 Today marks 100 days until the start of the next Commonwealth Heads of Government Meeting (CHOGM), on 28 October in Perth.
Marking this milestone, UK Minister for the Commonwealth, Lord Howell of Guildford said:
"We're now just 100 days away from the next CHOGM - the Commonwealth's biennial meeting of its 54 nations' Heads of the Government. The next 100 days will see considerable activity in Commonwealth affairs: the 57th meeting of the Commonwealth Parliamentary Association at Westminster, the 5th Meeting of the Commonwealth Eminent Persons Group in London, a major Lords debate on the Commonwealth in September, and the Meeting of Commonwealth Foreign Ministers at the UN General Assembly in New York.
"The UK Government believes that the Commonwealth is a truly unique organisation and the world's best soft power network. Its 54 members cover a third of the world's population, countries continue to queue to join, and new members are reaping the benefits the organisation has to offer.
"Its work covers the most important global challenges we face - championing democracy, human rights and rule of law, supporting development, facilitating trade, tackling climate change, and more. For the UK the Commonwealth furthers our foreign policy priorities and promotes our trade objectives.
"One of the Commonwealth's key strengths is its enduring resilience - aptly marked by the official theme for CHOGM 2011: 'Building National Resilience, Building Global Resilience'. We strongly support Australia's desire, as hosts, to 'strengthen the Commonwealth's effectiveness in supporting democracy, the rule of law and good governance'. These are the Commonwealth's core values.
"Another strength is its adaptability - identifying and focusing on areas where the Commonwealth's work will have a real and lasting impact. But to strengthen and grow the Commonwealth must be prepared to adapt itself. That is why we strongly support the work of the Eminent Persons Group tasked with modernising the organisation and welcome discussion of their recommendations in Perth.
"Acceptance of the Eminent Persons Group recommendations will strengthen the Commonwealth's core values and reinvigorate this unique organisation. But the Perth meeting will be an event of global, and not just Commonwealth, significance. It is noteworthy that its location in Perth places it at what is becoming in effect a centre of global economic expansion, and of the great new markets of the Indian Ocean and the Pacific Rim to which the UK must have full access if we are to prosper.
"We look forward to CHOGM 2011, its potential to re-launch the Commonwealth as the network for the 21st Century, and to the opportunities it will deliver for the UK."
Published 20 July 2011