100 councils open their spending to public scrutiny
This week South Ribble Borough Council has become the one hundredth local authority to put its spending data over £500 online.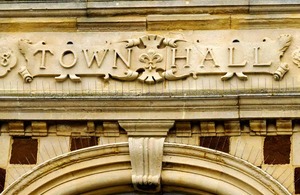 The milestone comes on the day Whitehall meets its own promise to publish the first of its spending data above £25,000 online. DCLG has already started publishing all its spending over £500.
Greater transparency is at the heart of the government's shared commitment, spearheaded by the Prime Minister to enable the public to hold politicians and public bodies to account. This ambition will also let the public, journalists and campaign groups put the data to use in meaningful ways - from rooting out waste to finding innovative ways of working.
Web developers and app designers have already taken up the challenge, transforming government data on into ingenious mobile phone or home computer applications to help people move house, choose a school or care home or even find their nearest postbox - making everyday local life that little bit easier.
Minister for Communities and Local Government, Baroness Hanham CBE said:
"We are entering a new era of openness and transparency where all parts of government are making information readily available to the public.
"So it is great to see that 100 councils have now put their spending over £500 online. With just 6 weeks till the New Year I urge those that have not done so, to catch up with their peers as soon as possible.
"We are already seeing how useful public data can be in everyday life, from moving home to choosing schools. The public have a right to see what their tax money is doing."
Sites and apps
Here some of the best sites and apps out there for budding armchair auditors:
Openly Local collates everything you could want to know about your local council on a single page, from spending details and meeting documents to elected councillors to local demographics.
UK Post Box is a mobile phone application that helps the user locate their nearest post box displayed as red post boxes on a map. It uses a dataset of all the registered Royal Mail post boxes in the United Kingdom to plot their location. It also displays the last collection time so people can catch the last post!
Pick My House Looking for somewhere to live? Just by browsing to where you're considering living and tagging (clicking) the spot in mind this site will give the user the low-down on the local area - local crime levels, schooling options, buses and more.
ASBOrometer This mobile phone app has become a national phenomenon, measuring levels of anti-social behaviour at your current location in England or Wales and shows key local statistics. It was made possible by the data.gov.uk initiative, which is opening up UK government data for public reuse. After achieving over 80,000 downloads in two days, ASBOrometer became the number 1 free app in the UK iTunes App Store.
Best Care Homes is a compare the market style search engine that helps the user find the right care home for a family member or client. Its database includes extracts from government inspection reports as well as information supplied by care homes, offering more detail than any other directory of care homes. The site also provides tools to help request more information about a residential care home or notify by email when new inspection reports are published on particular care homes.
School Guru helps parents find the best schools in Hertfordshire and enables them to see whether their child is eligible using official admission and outcome data from individual schools and Hertfordshire County Council.
The potential for many more of this sort of applications is growing as more government and local authority data is being uploaded online every day. Councils have been asked to publish all their spending information over £500 online by January, which could lead to many more innovative web gadgets on all sorts of issues in the future.
Published 19 November 2010