100% Council Tax freeze protection delivered across the country
Local people will get a much needed tax break with every English council taking up a Government offer to fund the first ever council tax freeze…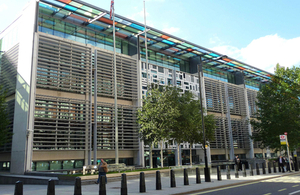 Local people will get a much needed tax break with every English council taking up a Government offer to fund the first ever council tax freeze, Local Government Secretary Eric Pickles confirmed today.
With council tax more than doubling since 1997, Ministers were determined to protect hard-working families and pensioners on fixed incomes this year and set aside a £650 million funding pot to support councils willing to freeze or reduce their council tax.
Official statistics published today on council tax levels show the average Band D council tax set by Local Authorities in England will remain unchanged at £1,439 for 2011-12 as a result of a zero per cent increase on last year's council tax level.
This is the first time ever that 100 per cent of local authorities have reduced or frozen council tax since its introduction in 1993-94. 378 authorities have been able to freeze their council tax whilst 43 have opted to reduce it.
Despite immense pressures on the public purse the Coalition Government is committed to helping people struggling with their day-to-day bills keep the cost of living down as a result of the 100 per cent response to the Government's freeze initiative.
Eric Pickles, Secretary of State for Communities and Local Government, said:
This Government has made sure that for the first time ever council tax bills have remained frozen all over the country this year - saving some local tax payers up to £72. We are standing up for the hard-pressed taxpayer who watched their council tax bill double.

Tackling public debt is our highest priority but we are determined to protect hard working families and pensioners who have been squeezed for too long. This is about giving real and immediate help to families struggling with the daily cost of living.

As well as special funding that has ensured councils freeze their bills, the Government has scrapped a council tax revaluation and in the future residents themselves will have the right to veto excessive increases in local referendums.
Every eligible English local authority will now receive grant equivalent to them having increased their council tax by 2.5 per cent. This will be paid in ten equal instalments from April 2011. No further capping action is required in 2011-12.
The capping threshold in recent years was a 5 per cent council tax rise. Stopping such a rise this year saves a typical household up to £72 and if an average 2.5 per cent rise had occurred the saving would have been £36.
Every part of the public sector is playing its part as the country starts to pay back unprecedented levels public debt - including local government which accounts for a quarter of all public expenditure.
But Ministers have prioritised protecting the vulnerable and made the council tax freeze money available to protect hard pressed families and pensioners from rising tax bills at this critical time. In addition the Government has confirmed a fair and progressive funding settlement with new funding freedoms that will shield the most vulnerable and protect frontline services like rubbish collections and care for the elderly.
Moving forward, the Localism Bill makes provision to replace government capping powers with new, binding council tax referendums from 2012-13 where an authority is proposing an excessive increase. The Government has also protected families from potential increases in council tax bills by ruling out a council tax revaluation in England for the remainder of this Parliament. The Bill would also abolish bin taxes - which would have led to new charges for household waste collections for many families on top of council tax.
Notes to editors
Council tax level statistics published today can be found at: http://www.communities.gov.uk/publications/corporate/statistics/counciltax201112.

Although the council tax freeze is only for one year, financial provision is made to support the freeze across the Spending Review. This will avoid 'cliff-edge' effects of council tax soaring in future years, and will 'lock in' the benefits of this year's freeze over each year over the Spending Review.

In the future the public will be given the power to veto excessive council tax rises. Councils that set council tax increase above a set ceiling, approved by Parliament each year, would trigger an automatic referendum of all registered electors in their area: http://www.communities.gov.uk/newsstories/newsroom/1658293.

The Government also confirmed in September that there would be no council tax revaluation in England during the lifetime of this Parliament: http://www.communities.gov.uk/news/newsroom/1723670.
5. The eligible authorities for the council tax freeze are local, police, and fire and rescue authorities - all these authorities have frozen or reduced their council tax. Parish councils are not covered, so bills in some areas may show small increases in cash terms due to parish precept increases.
Twitter
Keep up to date with the Department by following us on Twitter (external link).
Media enquiries
Visit our newsroom contacts page for media enquiry contact details.
Published 23 March 2011