£10 million to boost literacy for year sevens
Nick Clegg today announced up to £10 million additional support for pupil premium children who leave primary school without Level 4 literacy.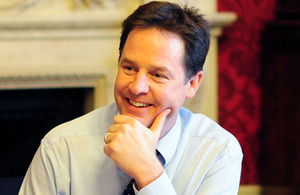 In a speech to teachers and school leaders, he said that the Education Endowment Foundation will be awarded the money to pilot projects to help disadvantaged pupils make the transition from primary to secondary school. The money will be targeted at struggling Year 7s from deprived homes who have left school without achieving Level 4 in literacy, to improve their reading and writing skills.
Deputy Prime Minister Nick Clegg said:
How can a child start secondary school unable to read with confidence? That is a basic building block of a good education and no child should begin the race so far behind the starting line. We need to do everything we can to help these children through this transition to get them up to speed.

That is a responsibility the Government takes extremely seriously. And I can confirm today that the Education Endowment Foundation will shortly be inviting groups of local schools in the areas that suffer most with this problem to bid for extra funds for struggling Year 7s, from deprived homes to help them get their reading and writing up to scratch. Extra "catch up cash", if you like.

The support will be for pupil premium pupils who leave primary school without Level 4 literacy - the expected level. And we envisage that schools will want to use it for small catch up classes, or one-to-one tuition, or vouchers for literacy tuition that parents can spend. We'll run a proper evaluation, sharing what works with all schools not just those areas taking part in these pilots. It's likely this kind of targeted support is the best way to crack this problem - next year we'll know.

Of course, we hope as few pupils as possible need it, thanks to the Pupil Premium. And I know primary and secondary schools up and down the country are determined to make this work. Some are using the money for breakfast clubs; homework clubs; or to provide one-to-one-tuition. Some are funding counselling services, so troubled kids are in the right place, emotionally, to learn. Some are using it for educational visits to places like museums: the sort of experiences middle class children take for granted but poorer child might rarely enjoy - and I know that's an approach you take here.
The Education Endowment Fund will announce further details about this work later in the year.
Notes to editors
1. The Deputy Prime Minister's speech - "Delivering Education's Progressive Promise: Using the Pupil Premium to Change Lives." - was hosted by the National Education Trust and delivered at New North Academy, Islington. The full text of the speech can be found here.  
Published 14 May 2012