The British Embassy in Argentina has become the first organisation outside the UK to meet the global 10:10 challenge for reducing its carbon footprint.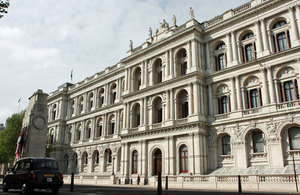 The embassy in Buenos Aires exceeded the 10 per cent target - managing to reduce its carbon footprint by almost a third in twelve months. Savings were achieved by using energy more efficiently, installing solar panels and movement sensors, and cutting back on air travel through more use of videoconferencing.
British Ambassador Shan Morgan, who championed the embassy's low carbon agenda said that the efforts of the staff had made a big difference.
"It's been a genuine team effort, with everyone contributing ideas and taking responsibility for action. The results have shown very clearly that small actions by every member of staff can collectively make a tangible difference."
Foreign Office Minister David Lidington said:
"Tackling climate change is a key commitment for the British Government. Action to reduce our own emissions is an important part of that commitment. The achievement of the Embassy in Buenos Aires is excellent and shows what can be done."
10:10 is a worldwide campaign to cut carbon emissions by 10 per cent a year from 2010 onwards. More than 6,900 organisations are participating, including British embassies in almost 70 countries.
The 10:10 campaign's Global Director and producer of "Age of Stupid" Lizzie Gillett has also praised the Embassy's achievement:
"It's great to hear not only that they've exceeded their carbon saving target, but also how much their team has taken from the experience, and how they plan to keep on cutting carbon in the coming year. Their work is an inspiring example to the organisations around the world who have signed up to 10:10."
The Embassy is keen to build on its 10:10 achievement and aims to cut a further 15 per cent of carbon emissions next year.
Published 28 August 2010