Press release
1 March: Horsemeat test result – Statement from Environment Secretary Owen Paterson
"The vast majority of test results from food retailers, wholesalers, and caterers are now in. The results continue to show that over 99 per …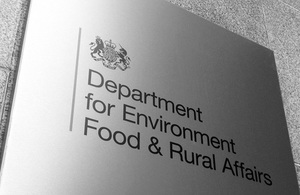 "The vast majority of test results from food retailers, wholesalers, and caterers are now in. The results continue to show that over 99 per cent of processed beef products are what they say they are on the label.
"The food industry and Food Standards Agency have moved very quickly to complete over 5000 tests in a very short space of time. Industry testing will continue and results will now be published on a quarterly basis.
"It is important that consumer trust in the food industry is rebuilt and these results show that less than one per cent of products tested have come back as testing positive for horse meat.
"Investigations into cases where horsemeat has - unacceptably - been discovered will continue, and anyone found guilty of criminal activity should expect to face the consequences."
Published 1 March 2013