News story
£1 billion growth fund open for business
Government's announces an extra £1 billion for businesses seeking support at the National Manufacturing Summit.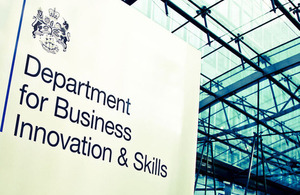 The funding is part of the Regional Growth Fund and takes the total to £2.4 billion.
It will be available to businesses and public / private partnerships with ambitions to create new jobs and make a significant impact on their local economy.
Deputy Prime Minister Nick Clegg will make the announcement at the Government's National Manufacturing Summit being held at the Bristol & Bath Science Park today.
He will also confirm that 48 of the successful firms from the first two rounds of the fund have completed their legal checks and have access to the Government fund. Speaking ahead of the summit, he said;
"The Fund is already having a huge impact across the UK. So far there have been over 170 successful bids to the fund, leveraging around £7.5 billion of private sector investment and set to create and protect 330,000 jobs. I want to see more businesses that are confident they can create jobs and get Britain building and making things again, coming forward - making sure their hats are in the ring.
"Funding from rounds one and two has gone to some extraordinarily promising manufacturing projects. From Pirelli Tyres in Carlisle who'll use the money to develop a new range of carbon-cutting tyres; to a Portsmouth based company which hopes to use theirs to create a cutting edge boat building college.
"These are the kinds of projects that will lead their communities into brighter times, helping put industry at the heart of the UK's economy. Businesses have until June to apply for a share of this extra £1 billion."
Manufacturing industry urged to bid for extra growth funding
The Manufacturing Summit brings together Government and key industry leaders to discuss and debate progress, the upcoming challenges and next steps for the sector as the Government continues to put manufacturing at the heart of its Growth Programme. There will also be further announcements for See Inside Manufacturing, and 23 new 'Industry Champions' for Make it in Great Britain.
Ahead of the summit, the Deputy Prime Minister will be joined by Business Secretary Vince Cable at GKN Aerospace, Bristol to open the company's new £150 million advanced composites manufacturing centre. This is site where the 27 metre long Airbus A350 wing is being made. When operating at full production, the facility will provide employment for 250 people.
Business Minister Mark Prisk, attending the conference later today, said:
"Worth approximately £130bn a year and employing 2.5m people, the manufacturing industry's contribution to our economy cannot be under estimated.
"The Government remains committed to manufacturing, which is why we have placed it at the heart of our Growth Programme. Equally so, showcasing manufacturing as a worthwhile career choice for young people in modern Britain is another goal of Government, which Make it in Great Britain and See Inside Manufacturing are helping to lead for the long term prosperity of the industry."
Links
Published 23 February 2012