£1 billion growth fund boost open for business
From today an extra £1 billion is available to businesses seeking support to help them create new jobs and grow.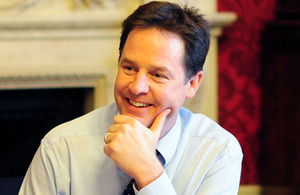 The funding is part of the Regional Growth Fund and takes the total fund to £2.4 billion. It will be available to businesses and public / private partnerships with ambitions to create new jobs and make a significant impact on their local economy.
Deputy Prime Minister Nick Clegg will make the announcement at the Government's National Manufacturing Summit being held at the Bristol & Bath Science Park. He is also set to confirm that 48 of the successful firms from the first two rounds of the fund have completed their legal checks and have access to the Government fund which leverages private sector investment, with at least £5 put in for every £1 of public money.
Read the full press release on the BIS website and follow the discussion on Twitter using hashtag #manfsummit.
Published 23 February 2012