News story
£1 billion growth fund boost open for business
The funding is part of the Regional Growth Fund and takes the total fund to £2.4 billion. It will be available to businesses and public / private…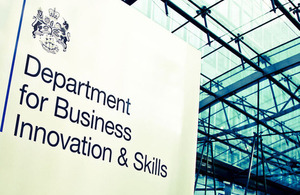 The funding is part of the Regional Growth Fund and takes the total fund to £2.4 billion. It will be available to businesses and public / private partnerships with ambitions to create new jobs and make a significant impact on their local economy.
Deputy Prime Minister Nick Clegg will make the announcement at the Government's National Manufacturing Summit being held at the Bristol & Bath Science Park.
He is also set to confirm that 48 of the successful firms from the first two rounds of the fund have completed their legal checks and have access to the Government fund which leverages private sector investment, with at least £5 put in for every £1 of public money.
Deputy Prime Minister Nick Clegg said:
"The Regional Growth Fund is already having a huge impact across the UK. So far there have been over 170 successful bids to the fund, leveraging around £7.5 billion of private sector investment and set to create and protect 330,000 jobs. I want to see more businesses that are confident they can create jobs and get Britain building and making things again, coming forward - making sure their hats are in the ring.
"Funding from rounds one and two has gone to some extraordinarily promising manufacturing projects. From Pirelli Tyres in Carlisle who'll use the money to develop a new range of carbon-cutting tyres; to a Portsmouth based company which hopes to use theirs to create a cutting edge boat building college.
"These are the kinds of projects that will lead their communities into brighter times, helping put industry at the heart of the UK's economy. Businesses have until June to apply for a share of this extra £1 billion."__
Ahead of the summit, the Deputy Prime Minister will be joined by Business Secretary Vince Cable at GKN Aerospace, Bristol to open the company's new £150 million advanced composites manufacturing centre, where parts of the 27 metre long** **Airbus A350 wing is being made. When operating at full production, the facility will provide employment for 250 people.
Business Secretary Vince Cable said:
"The Regional Growth Fund is starting to make excellent progress. Already 48 firms have started to access their funding, and around a third have started their projects as they go through legal checks. This means jobs are being created, money is being invested and the fund is making a difference.
"But we cannot be complacent. The additional £1 billion in the fund will help us maintain momentum around supporting even more businesses and encouraging the creation of new jobs.
"Many of the successful projects from rounds one and two were manufacturers and the sector remains one of our national success stories. Manufacturing lies right at the heart of the Government's strategy for economic recovery and growth."
Since the last update a further 20 projects have now signed their contracts. These include DTR VMS in Chippenham, Wiltshire and a number of firms in the Let's Grow Campaign, run by The Journal in Newcastle and Middlesbrough.
Many of the 176 successful bidders from rounds one and two, which are currently going through their legal checks, have already started their projects, with around a third of the companies reporting that activity is underway.
It was also announced at the Summit that 'See Inside Manufacturing', a pilot initiative introduced last year to give young people the opportunity to go behind the scenes of some of the UK's world-class automotive facilities to learn about modern manufacturing, will return again this June. This time it will be extended to three new sectors - aerospace, defence, and food and drink.
The Government's Make it in Great Britain campaign received an added boost at the Summit with the announcement of 23 new 'Industry Champions', bringing the total to 30. The Champions - who are leaders in their field across a variety of sectors within manufacturing - have signed up to lend their support to the campaign, which culminates in a six week exhibition at the Science Museum this summer during the Olympic and Paralympic Games.
Business Minister Mark Prisk said:
"Worth approximately £130bn a year and employing 2.5m people, the manufacturing industry's contribution to our economy cannot be under estimated.
"The Government remains committed to manufacturing, which is why we have placed it at the heart of our Growth Programme. Equally so, showcasing manufacturing as a worthwhile career choice for young people in modern Britain is another goal of Government, which Make it in Great Britain and See Inside Manufacturing are helping to lead for the long term prosperity of the industry."
Vince Cable also announced that Sir Richard Lapthorne, Chairman of Cable and Wireless Communications plc, has been appointed as Chair of the Lead Expert Group for the Foresight Future of Manufacturing Project, a two-year project investigating the long term future of manufacturing.
The Manufacturing Summit brought together Government and key industry leaders to discuss and debate progress, the upcoming challenges and next steps for the sector as the Government continues to put manufacturing at the heart of its Growth Programme.
Bonnie Dean, chief executive of the Bristol and Bath Science Park, said:
"As a Science City, Bristol has been recognised for the quality and diversity of its science and research base. Today's national conference also showcases another dimension of the region's strengths by focusing on the South West's businesses who have taken the considerable commercial risk to turn original research into sophisticated manufactured products sold nationally and exported internationally."
---
Notes to editors:
---
For more information on the criteria of the fund and how to bid, please visit www.bis.gov.uk/rgf

The deadline for bids is 13 June 2012.

There will be a series of road shows taking place across England to give potential bidders the opportunity to find out more about the fund and get advice on their proposals. The first series of road shows will begin at Birmingham on 16 March, followed by York on 20 March and Gateshead on 22 March.

Further dates and locations are being planned and will be available on the RGF website shortly.

The objectives for the third round will be the same as the previous two rounds, with the focus on projects that can create new jobs, are based in areas overly dependent on the public sector and have significant private investment in place.

The members of the Independent Advisory Panel, which advises ministers on which projects they may wish to support, is available on the BIS website. Sir Ian Wrigglesworth, who was the deputy chair, has stepped down after taking a role with the Liberal Democrats. A replacement will be announced in due course.

48 firms have now signed final contracts. Collectively, they will receive around £190 million of the RGF and will create and protect around 5000 new jobs. The 20 successful companies which have signed since the last update are:
Birmingham** Post **Funding of £10,000 to £100,000 will be available for enterprises and entrepreneurs of SMEs and start-ups in the Birmingham, Solihull and Coventry areas that are able to provide up to 50 per cent match funding. Each business supported will be provided with a mentor, as well as skills assessment and training. There will be an extensive media-led campaign with various events to raise awareness and engage the community. They will receive £5 million from RGF, supported by £750,000 of private investment and project will aim to create 250 jobs.
---
**Solent local enterprise partnership **The Solent local enterprise partnership and a local newspaper, The News, supported by the University of Portsmouth, will award micro-finance and small business grants. This programme plans to create new business start- ups, and existing businesses to grow. They will receive £2.1 million support from RGF, supported by £3.6 million of private investment and the project will aim to create 120 jobs.
---
The Marches Redundant Building Grant (RBG) Programme: This is a programme to provide capital grant support to SMEs and start-ups. Working with Herefordshire Council it will utilise unused, under-used and redundant buildings, in order to address an identified lack of available and suitable workspaces in the local enterprise partnership area. This programme will receive £1.5 million from the RGF, supported by £3.5 million of private investment and will create 330 new jobs.
Let's Grow Campaign: **The Newcastle Journal and Middlesbrough Evening Gazette's Let's Grow campaign, managed by UNW, brings together projects from the North East SME business community - giving a financial boost to a wide range of smaller projects. A number of projects within the package have now been signed off: **
* **Mediaworks,** an online marketing agency, will move to a new office In Tyne and Wear and recruit new staff. 
* **International Pipeline Products Ltd** will upgrade its manufacturing plant in Ayclffe in County Durham. 
* Sheet metal work business** Hydram Engineering Ltd** will upgrade its plant in County Durham. They will receive £486,000 from the RGF, supported by £2.2 million of private investment and will create 44 new jobs.
* **H.E. Woolley Ltd, **based in Middlesbrough, will purchase the equipment it needs to start supplying bottled gases to the pub and leisure industry, building on its existing links with customers through its fire extinguisher inspection business. They will receive £56,000 from the RGF, supported by £160,000 of private investment and will create 10 new jobs. 
* **John Harrison, **a firm in Stockton, will upgrade its production facilities so that it can meet the demand for the cartons it manufactures for foods, medicines and other household products. They will receive £95,000 from the RGF, supported by £380,000 of private investment and will create 21 new jobs.
* **Jarrow Brewery** will increase its brewing capacity by extending the current brewery and opening a second brewery in South Tyneside. They will receive £140,000 from the RGF, supported by £502,000 of private investment and will create 14 new jobs. 
* **Omega North East Ltd** manufactures injection mould tools and will expand its business to a new site in Stockton-on-Tees. They will receive £175,000 from the RGF, supported by £612,000 of private investment and will create 24 jobs.
* Information management company **Pearson Harper **will move into larger premises in Teesside and create new technician jobs to support future orders. They will receive £250,000 from the RGF, supported by £1 million private investment and create 25 jobs.
* **Propeller Limited **works with companies to reduce their costs by controlling what they consume. This project will enable it to move to new premises in Tyne and Wear and help it expand.** **They will receive £80,000 from the RGF, supported by £102,000 of private investment and will create 8 new jobs. 

Wigan** Borough Council Food Manufacturing Sector group. A Wigan Borough-led successful bid will support local firms. The successful businesses all work to supply and support the food industry within the borough and beyond as part of the Wigan Borough Food Manufacturing Sector group. The support from RGF will support a wide range of activities from investment in new technology and machinery to improve the production process (C&C Baseline** - £75,000 from the RGF, £260,000 of private investment and will create 18 new jobs); the manufacture of assemble energy efficient lighting equipment (Ronfell - £64,000 from the RGF, £271,000 private investment and will create 12 new jobs); and relocation to larger premises in order to expand research and development facilities (Standish - £75,000 from the RGF, £300,000 from private investment and will create 11 new jobs).
**DTR VMS **A project for a new R&D facility at Chippenham to develop new products using 'noise, vibration and harshness cancellation technology' for the automotive parts sector. Having outgrown their current site, the company are proposing to expand by buying a site in the Wiltshire area and redeveloping an existing building to include a state-of- the-art R&D, manufacturing and European logistics facility. They will receive £3.1 million from the RGF, supported by £11 million of private investment and will create 21 new jobs and protect 187.
**Carbon Trust **Investment by the Carbon Trust into energy efficient processes and technologies.
Capway systems will receive £165,000 from the RGF, supported by £383,000 of private investment and will create 5 new jobs.** **

Campden technology Ltd will receive £140,000 from the RGF, supported by 321,000 of private investment and will create 1 new job. **
---
Leeds City Region has a package of advanced manufacturing projects designed to help manufacturers in Leeds and the surrounding area to compete and win in the manufacturing sectors and technologies of tomorrow. Two more projects from this package have now been signed off:**
Road Tankers Northern LTD will buy and equip an adjacent manufacturing site to increase production capacity. The extra capacity is needed because the company has been losing orders to Europe and South Africa. They will receive £100,000 from the RGF and will create 30 new jobs.
Hindle Group's project will enable them to buy a gear testing machine which it will use to design state of the art gearboxes. Typical markets include construction equipment, street cleaning vehicles, large diesel and gas powered engines and military equipment. They will receive £110,000 from the RGF and will create 22 new jobs.
Angle Ring, part of the South Black Country Growing Advanced Manufacturing **package. **Further details to be confirmed once all projects in the package have been signed off.
In the first round of the fund, £450 million was allocated to projects, and £950 million allocated in the second round. In the 2011 Autumn Statement, Chancellor George Osborne announced a further £1 billion will be added to the fund. The aim is to allocate this through the third round, but further rounds may be added. This will ensure the highest quality projects are supported.

So far, the fund will support 176 projects, which are expected to support and create more than 330,000 jobs.

The full list on Make it in Great Britain Champions includes:
Newly announced Champions
Andrew Sims (Cooney Marine International Ltd)

David Hewitt (Lotus Cars)

Paul Taylor (Dynex)

John Campton (Premier Group)

Nigel Stuart (Discovery Yachts Ltd)

Rob Kemp (Kemp Sails Ltd)

Tom Crotty (Ineos)

Kate Edwards (J8 Precision Ltd)

Emma Bridgewater (Emma Bridgewater)

Mark Cropper (James Cropper)

Brian Stone (Jaguar Landrover)

Juergen Maier (Siemens Plc)

Roger Evans (Schaeffler UK Ltd)

Nigel Whitehead (BAE Systems)

Trevor Mann (Nissan)

Alex Burns (William Grand Prix Holdings)

Colin Smith (Rolls Royce)

Dick Searle (The Packaging Federation)

Doreen Adusei (Fashionworks)

Jonathan Short (EcoPlastics Ltd)

Liz Forthergill (Pennine Healthcare)

Mark Barclay (Airbus in the UK)

Steve Eastham (Tata Global Beverages)
Existing champions
Steve Uden (Microsoft Computing)

William Butler-Adams (Brompton Bicycle Ltd)

Michael Ankers OBE (Construction Products Association)

Stephen Blatchford (Chas A Blatchford)

Joe Greenwell (Ford Motor Company)

Ian McCubbin (GlaxoSmithKline)

Michael Ryan (Bombardier Aerospace
To find out more about Make it in Great Britain visit http://makeitingreatbritain.bis.gov.uk/

For more information about See Inside Manufacturing go to http://www.bis.gov.uk/seeinsidemanufacturing/

The UK Government's Foresight Programme helps Government think systematically about the future. The Future of Manufacturing Project will investigate how the UK can maximise key opportunities and provide an evidence base to help policy-makers navigate a challenging and uncertain future.

The project will benefit from a multi-disciplinary Lead Expert Group, which will be Chaired by Sir Richard Lapthorne, Chairman of Cable and Wireless Communications plc. Sir Richard has recently served as Chairman of the McLaren Group, and has previously held senior positions at Unilever, Courtaulds plc and British Aerospace. For details of other members of the group please see: www.bis.gov.uk/foresight/our-work/projects/current-projects/future-of-manufacturing

The Institute for Manufacturing (IfM) has been commissioned to study the global manufacturing environment and explain how the UK will can the capitalise on the High Value Manufacturing (HVM) over the next 15-20 years. The resulting report entitled 'A landscape for the future High Value Manufacturing' provides the future focus for the Technology Strategy Board's new HVM strategy and the recently established HVM Catapult centre.

The Bristol & Bath Science Park is becoming a hub for the region's many science and technology businesses, connecting entrepreneurs, fledgling businesses and established brands with vital investors, academia and design.
It provides a professional and supportive environment for collaboration between universities and businesses to accelerate the commercialisation of new and applied technologies. The Universities of Bath, Bristol and West of England are key stakeholders in the science park.
The 59 acre (24 hectare) site in Emerson's Green, north Bristol is easily accessible by rail, air and the M4 and M5 motorways.

BIS's online newsroom contains the latest press notices, speeches, as well as video and images for download. It also features an up to date list of BIS press office contacts. See http://www.bis.gov.uk/newsroom for more information.
Notes to Editors
Contact Information
Name BIS Press Office Job Title
Division COI Phone
Fax
Mobile
Email NDS.BIS@coi.gsi.gov.uk
Name Andy Aston Job Title
Division Department for Business, Innovation & Skills Phone 0207 215 6963 Fax
Mobile
Published 23 February 2012