News story
£1.3 billion funding deal for the post office
The Government has today announced funding over the next four years to maintain and modernise the Post Office network.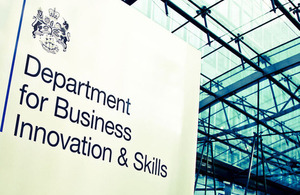 Following last week's Spending Review, the announcement was made during the first debate in the House of Commons of the Government's Postal Services Bill. The Bill is designed to protect two cornerstones of British life - the Royal Mail and the Post Office.
The Government's Postal Services Bill makes the following proposals:
Royal Mail
The requirements of the universal postal service - collection and delivery of post six days a week at uniform, affordable prices are written into the Bill. The Government has no intention of downgrading them.
Royal Mail will be able to benefit from an injection of private capital - ending the dependence on funding from the taxpayer and bringing new commercial disciplines into the business.
Alongside private sector investment:
At least 10% of the shares in Royal Mail will go to its employees in the future. This will be the largest employee share scheme of any privatisation for 25 years.
Royal Mail will be relieved of its enormous historic pension deficit by the Government.
As part of a general reform of the regulatory regime for mail, the existing regulator, Postcomm, will be replaced by Ofcom, the communications regulator, with the Bill providing for the transfer of Postcomm's regulatory responsibility and its staff to Ofcom.
Post Office
The network of 11,500 Post Office branches is not for sale and there will be no further programme of closures.
It could be converted into a mutual structure as part of new plans to hand the ownership and running of the Post Office to employees, sub postmasters and local communities.
The network of 11,500 Post Office branches is not for sale and there will be no further programme of closures.
The funding is broken down as follows:
Financial year 2011/12 - £180m
Financial year 2012/13 - £410m
Financial year 2013/14 - £415m
Financial year 2014/15 - £330m
Business Secretary Vince Cable said:
"The package averages out at over £330m a year - more than double the subsidy paid to the Post Office for the past two years.
"A large proportion of the last Government's funding was spent on closing post offices. Our strategy is completely different - it addresses the underlying economics of the network, while maintaining its size and reach."
The Government will shortly publish a policy statement giving further detail on how it plans to secure the Post Office's long term future - including plans for the network to provide more Government services.
Links
Postal Affairs Minister Edward Davey explains the Postal Service Bill Part 1
Postal Affairs Minister Edward Davey explains the Postal Service Bill Part 2
Published 27 October 2010