1,000th recruit passes out of British-run Helmand Police Training Centre
The 1,000th Afghan Policeman passed out of the British-run Helmand Police Training Centre (HPTC) last week.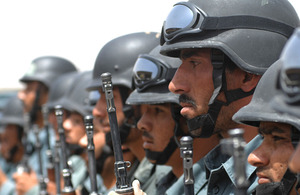 The 1,000th man to pass out of the centre was Patrolman Hayatullah, son of Panji, a Turkman from Shindak, who began training in May 2010 and passed out on 14 July 2010.
Like all recruits, before Hayatullah could even begin police training he was registered at Police Headquarters, biometrically screened, medically assessed and drug tested.
He was then taken to the new training centre outside Lashkar Gah, which opened in December 2009, to join his platoon and begin training immediately.
As one of an intake of 153, Hayatullah was trained by Trooper Daniel Simnet and Corporal Orville Palmer of B Squadron, The Queen's Royal Lancers, and by subject matter experts from the US Marines and the UK Ministry of Defence Police Force.
Trooper Daniel Simnet, who has taught himself Dari whilst at the HPTC, said:
I really enjoy teaching the lessons, it's hard work but it is good to be able to teach them skills that will help save their lives when they finish.
It's rewarding when they pass out and return to come and see you, and they are still smart and professional police, it gives you confidence that they are making a real difference on the ground.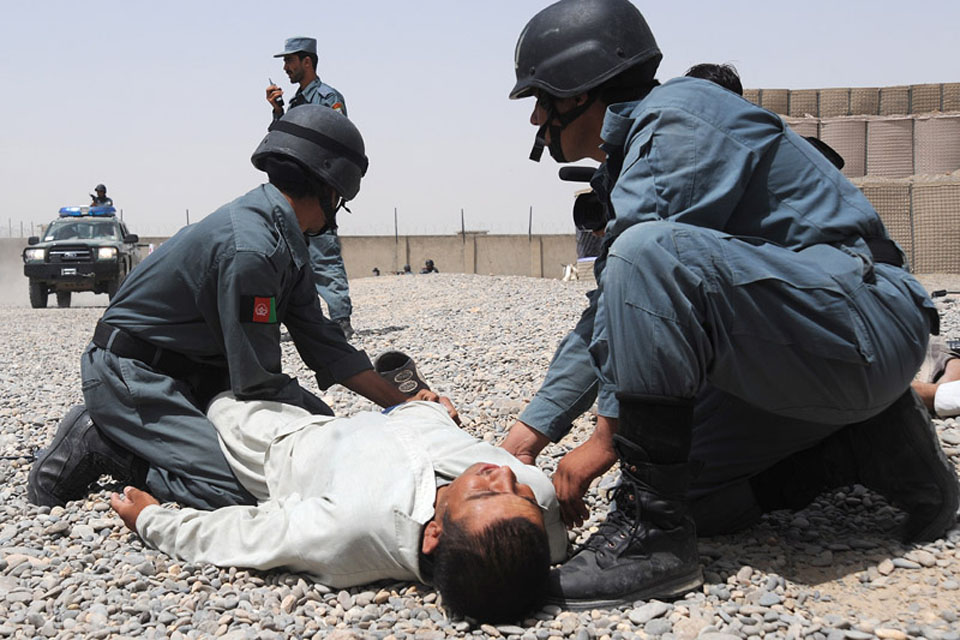 After his first three weeks of basic training, Hayatullah found his training advancing and becoming more complex as the training teams combine realistic training exercises, including deployments on to route 601 in Lashkar Gah, the main access between Lashkar Gah and Kandahar.
Working from a checkpoint, the recruits learn the vital skill of communicating effectively with the locals they will eventually be sent out to protect.
The recruits are also trained in literacy. The programme delivered at HPTC has been designed to raise reading levels of recruits so they can accurately process evidence and conduct essential basic administration.
The course therefore gives recruits the chance to better themselves - more than just a policing tool it is a matter of pride.
Corporal Orville Palmer said:
The odd thing about Hayatullah was that at the beginning he wasn't the strongest recruit, but by the end of the course he fully understood his role as a policeman and the pride and excitement he had about returning to help protect his community was really humbling.
It soon became clear that he had a quick mind and he was even found teaching some of his friends during the evening, which was really rewarding for us as his instructors.
Major Ben Horne, Officer Commanding the HPTC, said:
The improvement I have seen in Hayatullah is not unique, all of his colleagues have left the HPTC with the skills they need to be policemen in the complicated and difficult environment of Helmand.
Above all they leave proud of their own achievements and with a sense of pride in the ANP. It is this sense of professional discipline and pride that will help them to remain focussed and carry out the lessons they have learnt [at HPTC] back in their communities.
The progress we see recruits making here at the HPTC is resulting in the ANP being seen as the source of security and stability for the people of Helmand, capable of tackling the insurgency and further reinforcing the ANP's status in society.
The passing out ceremony last week saw 409 fellow policemen on the square alongside Hayatullah and was attended by the Helmand Governor, Gulab Mangal, British Ambassador Sir William Patey, Major General Nick Carter, and Major General Richard Mills.
They saw Patrolman Hayatullah and his colleagues accept their certificates before departing to their districts. Hayatullah has now deployed to Nowzad in the north of Helmand.
Published 20 July 2010