Case study
WW1 South African VC recipient William Henry Hewitt
The story of South African Victoria Cross recipient William Henry Hewitt.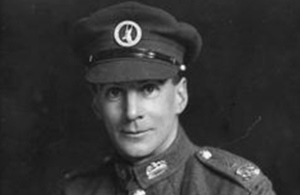 14 men from South Africa received the Victoria Cross, Britain's highest award for gallantry, during the First World War. As part of the Centenary Commemorations the people of the United Kingdom marked their gratitude to those courageous men by presenting a bronze memorial plaque to their home country engraved with their names. The plaque is now displayed at the Castle of Good Hope, Capetown. This archive tells their stories.
Name: William Henry Hewitt
DOB: 19 June 1884
Place of Birth: Capdock, England
Date of Action: 20 September 1917
Place of Action: East of Ypres, Belgium
Rank: Lance-Corporal
Regiment: 2nd South African Light Infantry
William Henry Hewitt was born in Suffolk, England on 19 June 1884 but emigrated to South Africa in 1905. After the outbreak of the First World War, he enlisted in the 2nd South African Light Infantry in 1915, and his regiment arrived in France in July 1916.
Lance-Corporal Hewitt was awarded his Victoria Cross for most conspicuous bravery on 20 September 1917 during the Third Battle of Ypres, Passchendaele, when the South African Brigade were advancing from Frezenberg. As his citation explains:
Lance Corporal Hewitt attacked a pill-box with his section and tried to rush the doorway. The enemy garrison, however, proved very stubborn, and in the attempt this non-commissioned officer received a severe wound. Nevertheless, he proceeded to the loophole of the pill-box where, in his attempts to put a bomb into it, he was again wounded in the arm. Undeterred, however, he eventually managed to get a bomb inside, which caused the occupants to dislodge, and they were successfully and speedily dealt with by the remainder of section.
Hewitt was presented with his Victoria Cross by King George V at Buckingham Palace in January 1918. He died in Cheltenham, England, in 1966, and his ashes were scattered at sea close to Cape Town, South Africa.
Published 20 June 2016