Case study
WW1 South African VC recipient Wiliam Anderson Bloomfield
The story of South African Victoria Cross recipient William Anderson Bloomfield.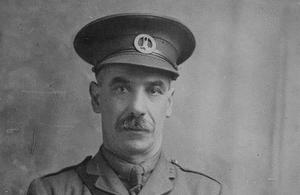 14 men from South Africa received the Victoria Cross, Britain's highest award for gallantry, during the First World War. As part of the Centenary Commemorations the people of the United Kingdom marked their gratitude to those courageous men by presenting a bronze memorial plaque to their home country engraved with their names. The plaque is now displayed at the Castle of Good Hope, Capetown. This archive tells their stories.
Name: William Anderson Bloomfield
DOB: 30 January 1873
Place of Birth: Edinburgh, Scotland
Date of Action: 24 August 1916
Place of Action: Mlali, Tanganyika (now Tanzania)
Rank: Captain
Regiment: Scouts Corps, 2nd South African Mounted Brigade
William Bloomfield was born in 1873 in Edinburgh, Scotland, but his family emigrated to South Africa in 1878. During the First World War, he was a Captain in the Scout Corps of the 2nd South African Mounted Brigade.
Captain Bloomfield was awarded his Victoria Cross for most conspicuous bravery at Mlali (now in Tanzania) on 24 August 1916. Whilst consolidating his position after being heavily attacked and being forced to retire, Captain Bloomfield discovered that one of the wounded had not been evacuated with the rest. His citation explains further:
Finding that, after being heavily attacked in an advanced and isolated position, the enemy were working round his flanks. Captain Bloomfield evacuated his wounded, and subsequently withdrew his command to a new position, he himself being amongst the last to retire. On arrival at the new position, he found that one of the wounded - No 2475 Corporal D.M.P Bowker - had been left behind. Owing to very heavy fire he experienced difficulties in having the wounded Corporal brought in. Rescue meant passing some 400 yards of open ground, swept by heavy fire, in full view of the enemy. This task Captain Bloomfield determined to face himself, and unmindful of personal danger, he succeeded in reaching Corporal Bowker and carrying him back, subjected throughout the double journey to heavy machine-gun and rifle fire. This act showed the highest degree of valour and endurance.
Bloomfield later rose to the rank of Major. He died in 1954 and was buried in Ermelo, Mpumalanga, South Africa.
Published 20 June 2016