Case study
WW1 South African VC recipient Percy Howard Hansen
The story of South African Victoria Cross recipient Percy Howard Hansen.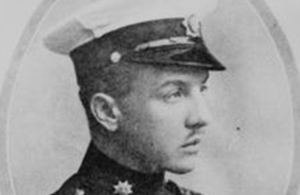 14 men from South Africa received the Victoria Cross, Britain's highest award for gallantry, during the First World War. As part of the Centenary Commemorations the people of the United Kingdom marked their gratitude to those courageous men by presenting a bronze memorial plaque to their home country engraved with their names. The plaque is now displayed at the Castle of Good Hope, Capetown. This archive tells their stories.
Name: Percy Howard Hansen
DOB: 26 October 1890
Place of Birth: Dresden, Germany
Date of Action: 9 August 1915
Place of Action: Yilghin Burnu, Gallipoli
Rank: Captain
Regiment: Lincolnshire Regiment
Percy Howard Hansen is one of only 14 people to be awarded the Victoria Cross who was not born a British or a Commonwealth citizen. Instead, he was a Danish citizen, born to Danish parents in Dresden, Germany on 26 October 1890. His family lived in South Africa where they owned a merchant business, but they moved to the UK when Hansen was a young boy. He was educated in England at Eton College and following training at Sandhurst, joined the Lincolnshire Regiment of the British Army in 1911.
Captain Hansen was awarded his Victoria Cross on 9 August 1915 at Yilghin Burnu, Gallipoli, Turkey. His battalion had been forced to pull back whilst assaulting Scimitar Hill. The scrubland they had withdrawn from was set on fire by the Turks, leaving several wounded British soldiers left behind in the scrub. As his citation explains:
After the second capture of the 'Green Knoll' his Battalion was forced to retire, leaving some wounded behind owing to the intense heat of the scrub which had been sent on fire. When the retirement was effected Captain Hansen, with 3 or 4 volunteers, on his own initiative, dashed forward several times some 300 to 400 yards over open ground into the scrub under a terrific fire, and succeeded in rescuing from inevitable death by burning no less than 6 wounded men.
One month later, Hansen was awarded the Military Cross, and he was later made a Companion of the Distinguished Service Order for a daring reconnaissance mission during the Battle of Passchendaele in 1917. He served in the Second World War, achieving the rank of Brigadier. He died in 1951 in Copenhagen.
Published 20 June 2016