Case study
WW1 South African VC recipient Oswald Austin Reid
The story of South African First World War Victoria Cross recipient Oswald Austin Reid.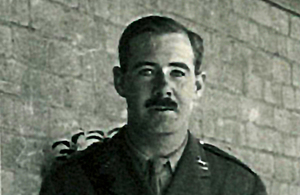 14 men from South Africa received the Victoria Cross, Britain's highest award for gallantry, during the First World War. As part of the Centenary Commemorations the people of the United Kingdom marked their gratitude to those courageous men by presenting a bronze memorial plaque to their home country engraved with their names. The plaque is now displayed at the Castle of Good Hope, Capetown. This archive tells their stories.
Name: Oswald Austin Reid
DOB: 2 November 1893
Place of Birth: Johannesburg, South Africa
Date of Action: 8 to 10 March 1917
Place of Action: Dialah River, Mesopotamia (now Iraq)
Rank: Captain
Regiment: King's Liverpool Regiment, British Army
Oswald Reid was born on 2 November 1893 in Johannesburg, South Africa, where he was educated before leaving for boarding school at Radley College in England. At the outbreak of the First World War, he joined the King's Liverpool Regiment as a Second Lieutenant. He was wounded on the Western Front in April 1915, and again a year later. Reid subsequently served in Mesopotamia (now Iraq), attached to the 6th Loyal North Lancashire Regiment.
Captain Reid was awarded his Victoria Cross for most conspicuous bravery in the face of desperate circumstances on 8 to 10 March 1917 at the Dialah River, Mesopotamia. His citation in the London Gazette explains: By his dauntless courage and gallant leadership he was able to consolidate a small post with the advanced troops, on the opposite side of a river to the main body, after his line of communications had been cut by the sinking of the pontoons. He maintained this position for 30 hours against constant attacks by bombs, machine gun and shell fire, with the full knowledge that repeated attempts at relief had failed, and that his ammunition was all but exhausted. It was greatly due to his tenacity that the passage of the river was effected on the following night. During the operations he was wounded.
Reid later achieved the rank of Major and was mentioned in despatches in December 1917 in the capture of Baghdad. After the war, he returned to South Africa where he died in October 1920. His Victoria Cross is on display at the National Museum of Military History in Johannesburg.
Published 20 June 2016