Case study
WW1 South African VC recipient Frederick Charles Booth
The story of South African First World War Victoria Cross recipient Frederick Charles Booth.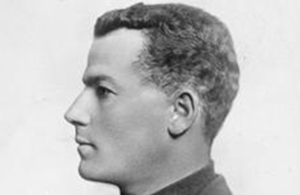 14 men from South Africa received the Victoria Cross, Britain's highest award for gallantry, during the First World War. As part of the Centenary Commemorations the people of the United Kingdom marked their gratitude to those courageous men by presenting a bronze memorial plaque to their home country engraved with their names. The plaque is now displayed at the Castle of Good Hope, Capetown. This archive tells their stories.
Name: Frederick Charles Booth
DOB: 6 March 1890
Place of Birth: London England
Date of Action: 12 February 1917
Place of Action: Johannesbruck, near Songea, German East Africa
Rank: Sergeant
Regiment: British South Africa Police, attached to the Rhodesia Native Regiment
Frederick Charles Booth was born in Holloway, London, England on 6 March 1890, and was educated at Cheltenham College. Whilst serving in the British South Africa Police, he was attached to the Rhodesian Native Regiment during the First World War. He was awarded the Victoria Cross for his actions on 12 February 1917 in Johannesbruck, near Songea, German East Africa. His citation reads:
For most conspicuous bravery during an attack, in thick bush, on the enemy position. Under very heavy rifle fire, Sjt. Booth went forward alone and brought in a man who was dangerously wounded. Later, he rallied native troops who were badly disorganised and brought them to the firing line. This N.C.O. has on many previous occasions displayed the greatest bravery, coolness and resource in action, and has set a splendid example of pluck, endurance and determination.
Booth was commissioned into the Middlesex Regiment in 1918 as a Captain. He died in 1960 in the Red Cross Convalescent Hospital for Officers, and was buried in the Red Cross Plot at Bear Road Cemetery in Brighton.
Published 20 June 2016