Case study
WW1 South African VC recipient Clement Robertson
The story of South African First World War Victoria Cross recipient Clement Robertson.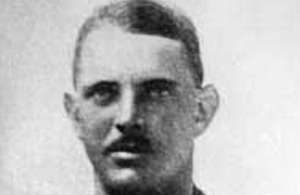 14 men from South Africa received the Victoria Cross, Britain's highest award for gallantry, during the First World War. As part of the Centenary Commemorations the people of the United Kingdom marked their gratitude to those courageous men by presenting a bronze memorial plaque to their home country engraved with their names. The plaque is now displayed at the Castle of Good Hope, Capetown. This archive tells their stories.
Name: Clement Robertson
DOB: 15 December 1890
Place of Birth: Pietermaritzburg, South Africa
Date of Action: 4 October 1917
Place of Action: Zonnebeke, Belgium
Rank: Acting Captain
Regiment: Queen's Royal West Surrey Regiment
Clement Robertson was born on 15 December 1890 in Pietermaritzburg, South Africa, where his father was serving with the British Army at the time. The family later returned to their native Ireland where Robertson grew up before studying engineering at Trinity College, Dublin. He then went to Egypt where he worked as an engineer on the Nile irrigation project.
When the First World War broke out, Robertson returned home to enlist. He was 26 years old and an acting Captain with the Queen's Royal West Surrey Regiment during the Battle of Passchendaele. He was attached to A Battalion Tank Corps, when he was awarded the Victoria Cross posthumously on 4 October 1917, at Zonnebeke, Belgium. His citation reads:
For most conspicuous bravery in leading his Tanks in attack under heavy shell, machine-gun and rifle fire over ground which had been heavily ploughed by shell-fire. Captain Robertson, knowing the risk of the Tanks missing the way, continued to lead them on foot, guiding them carefully and patiently towards their objective, although he must have known that this action would almost certainly cost him his life. He was killed after the objective had been reached, but his skilful leading had already ensured success. His utter disregard of danger and devotion to duty afford an example of outstanding valour.
Captain Robertson was buried at Oxford Road Cemetery, near Ypres. A Tank Corps flag raising ceremony takes place every year on 4 October at the Tank Memorial Ypres Salient.
Published 20 June 2016