Case study
WW1 South African VC recipient Arthur Moore Lascelles
The story of South African First World War recipient Arthur Moore Lascelles.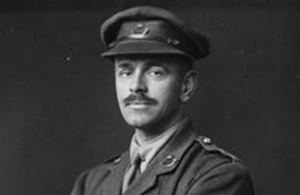 14 men from South Africa received the Victoria Cross, Britain's highest award for gallantry, during the First World War. As part of the Centenary Commemorations the people of the United Kingdom marked their gratitude to those courageous men by presenting a bronze memorial plaque to their home country engraved with their names. The plaque is now displayed at the Castle of Good Hope, Capetown. This archive tells their stories.
Name: Arthur Moore Lascelles
DOB: 12 October 1880
Place of Birth: Streatham, London, UK
Date of Action: 3 December 1917
Place of Action: Masnieres, France
Rank: Acting Captain
Regiment: Durham Light Infantry, British Army
Arthur Moore Lascelles was born in South London on 12 October 1880. He studied as a medical student, at Edinburgh University before emigrating in 1902 to South Africa where he joined the Cape Mounted Rifles as a Trooper. In the early months of the First World War, Lascelles served with the 1st South African Mounted Rifle in German South West Africa. In 1915, he left South Africa for England with his wife and son. There, he was commissioned as a Second Lieutenant in the 3rd Battalion of the Durham Light Infantry in December 1915.
Lascelles fought on the Western Front in 1916 where he was badly wounded on the Somme, and in June 1917 he was awarded the Military Cross at Loos.
Acting Captain Lascelles was awarded the Victoria Cross for his actions at Masnieres on 3 December 1917 during the Battle of Cambrai, where he was severely wounded. His citation explains:
For most conspicuous bravery, initiative and devotion to duty when in command of his company in a very exposed position. After a very heavy bombardment during which Capt. Lascelles was wounded, the enemy attacked in strong force but was driven off, success being due in a great degree to the fine example set by this officer, who, refusing to allow his wound to be dressed, continued to encourage his men and organise the defence. Shortly afterwards the enemy again attacked and captured the trench, taking several of his men prisoners. Capt. Lascelles at once jumped on to the parapet and followed by the remainder of his company, 12 men only, rushed across under very heavy machine-gun fire and drove over 60 of the enemy back, thereby saving a most critical situation. He was untiring in reorganising the position, but shortly afterwards the enemy again attacked and captured the trench and Capt. Lascelles, who escaped later. The remarkable determination and gallantry of this officer in the course of operations, during which he received 2 further wounds, afforded an inspiring example to all.
King George V presented Lascelles with his Victoria Cross at Buckingham Palace in March 1918. Although he had not yet recovered from his wounds, Lascelles returned to the Western Front and was killed in action on 7 November 1918, just 4 days before Armistice Day. He was buried in Dourlers Cemetery, France.
Published 20 June 2016