Case study
WW1 Indian VC recipient Lala
The story of Indian First World War Victoria Cross recipient Lala.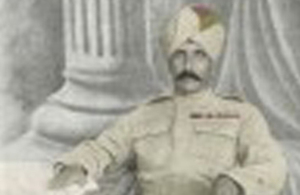 6 men from India received the Victoria Cross, Britain's highest award for gallantry, during the First World War. As part of the Centenary Commemorations the people of the United Kingdom marked their gratitude to those courageous men by presenting a bronze memorial plaque to their home country engraved with their names. This archive tells their stories.
Name: Lala
DOB: 20 April 1876
Place of Birth: Kangra, Himachal Pradesh, India
Date of Action: 21 January 1916
Place of Action: Hanna, Mesopotamia (now Iraq)
Rank: Lance-Naik
Regiment: 41st Dogras, Indian Army
Lala was born on 20 April 1876 in Himachal Pradesh, India, and served as a Lance-Naik (equivalent of a Lance Corporal) in the 41st Dogras, Indian Army, during the First World War.
Lala was awarded the Victoria Cross for most conspicuous bravery on 21 January 1916 during the First Battle of Hanna in Mesopotamia, (present-day Iraq). His citation reads:
Finding a British officer of another regiment lying close to the enemy, he dragged him into a temporary shelter, which he himself had made, and in which he had already bandaged four wounded men. After bandaging his wounds he heard calls from the Adjutant of his own regiment who was lying in the open severely wounded. The enemy were not more than one hundred yards distant, and it seemed certain death to go out in that direction, but Lance Naik Lala insisted on going out to his adjutant, and offered to crawl back with him on his back at once. When this was not permitted, he stripped off his own clothing to keep the wounded officer warmer, and stayed with him till just before dark, when he returned to the shelter. After dark he carried the first wounded officer back to the main trenches, and then, returning with a stretcher, carried back his Adjutant. He set a magnificent example of courage and devotion to his officers.
Lala died in India of polio in 1927 and his last words were said to be: "We fought true."
Published 20 June 2016