Case study
WW1 Indian VC recipient Darwan Singh Negi
The story of Indian First World War Victoria Cross recipient Darwan Singh Negi.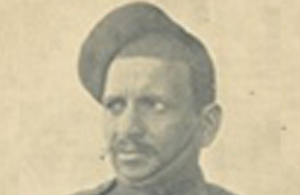 6 men from India received the Victoria Cross, Britain's highest award for gallantry, during the First World War. As part of the Centenary Commemorations the people of the United Kingdom marked their gratitude to those courageous men by presenting a bronze memorial plaque to their home country engraved with their names. This archive tells their stories.
Name: Darwan Singh Negi
DOB: 4 March 1883
Place of Birth: Karbartir Village, India
Date of Action: Night of 23 to 24 November 1914
Place of Action: Near Festubert, France
Rank: Naik
Regiment: 1st Battalion, 39th Garhwal Rifles
Darwan Singh Negi was born on 4 March 1883 in Karbartir Village, India. He was a Naik (equivalent of a Corporal) who served with the 1st Battalion of 39th Garhwal Rifles during the First World War.
On the night of 23 to 24 November 1914, his regiment was trying to retake the British trenches near Festubert from the enemy. Despite being wounded twice in the head and the arm and coming under intense rifle fire and bomb explosions, Darwan Singh Negi was one of the first to push through the trenches to clear them of German soldiers. Singh Negi was awarded the Victoria Cross for his actions, his citation reads:
For great gallantry on the night of the 23rd–24th November, near Festubert, France, when the regiment was engaged in retaking and clearing the enemy out of our trenches, and, although wounded in two places in the head, and also in the arm, being one of the first to push round each successive traverse, in the face of severe fire from bombs and rifles at the closest range.
He later retired from the army with the rank of Subedar, (equivalent of Captain). Singh Negi died in India in 1950. The regimental museum of the Garhwal Rifles in Lansdowne, Uttarakhand is named in his honour.
Published 20 June 2016