Case study
WW1 Canadian VC recipient Thomas Ricketts
The story of Canadian First World Victoria Cross Recipient Thomas Ricketts.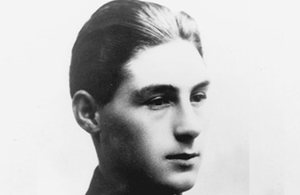 70 men from Canada received the Victoria Cross, Britain's highest award for gallantry, during the First World War. As part of the Centenary Commemorations the people of the United Kingdom marked their gratitude to those courageous men by presenting a bronze memorial plaque to their home country engraved with their names. The plaque is now displayed at the British High Commission Ottawa. This archive tells their stories.
Name: Thomas Ricketts
DOB: 15 April 1901
Place of Birth: Middle Arm, Newfoundland
Date of Action: 14 October 1918
Place of Action: Ledeghem, Belgium
Rank: Private
Regiment: Royal Newfoundland
Thomas Ricketts was born in Middle Arm, Newfoundland, in 1901. When he enlisted for service in 1916 with the 1st Battalion he was aged only 15 years old, but gave his age as 18. It was on 14 October 1918 near Ledeghem, Belgium that Private Ricketts, still only seventeen, was awarded the Victoria Cross. His citation reads:
For most conspicuous bravery and devotion to duty on the 14th October, 1918, during the advance from Ledeghem, when the attack was temporarily held up by heavy hostile fire and the platoon to which he belonged suffered severe casualties from the fire of a battery at point-blank range. Pte. Ricketts at once volunteered to go forward with his section commander and a Lewis gun to attempt to outflank the battery. Advancing by short rushes under heavy fire from enemy machine guns with the hostile battery, their ammunition was exhausted when still 300 yards from the battery. The enemy, seeing an opportunity to get their field guns away, began to bring up their gun teams. Pte. Ricketts, at once realising the situation, doubled back 100 yards under the heaviest machine-gun fire, procured further ammunition, and dashed back again to the Lewis gun, and by very accurate fire drove the enemy and the gun teams into a farm. His platoon then advanced without casualties, and captured the four field guns, four machine guns, and eight prisoners. A fifth field gun was subsequently intercepted by fire and captured. By his presence of mind in anticipating the enemy intention and his utter disregard of personal safety, Pte. Ricketts secured the further supply of ammunition which directly resulted in these important captures and undoubtedly saved many lives.
Private Ricketts was also awarded France's Croix de Guerre with Golden Star in 1919. After the war he became a student and opened a pharmacy in St John's Newfoundland. He died there in 1967, and was given a state funeral.
Published 20 June 2016