Case study
WW1 Australian VC recipient William Dunstan
The story of Australian First World War Victoria Cross recipient William Dunstan.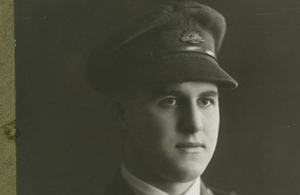 66 men from Australia received the Victoria Cross, Britain's highest award for gallantry, during the First World War. As part of the Centenary Commemorations the people of the United Kingdom marked their gratitude to those courageous men by presenting a bronze memorial plaque to their home country engraved with their names. The plaque is now displayed at the Australian War Memorial. This archive tells their stories.
Name: William Dunstan
DOB: 8 March 1895
Place of Birth: Ballarat, Victoria, Australia
Date of Action: 9 August 1915
Place of Action: Lone Pine, Gallipoli, Turkey
Rank: Corporal
Regiment: 7th Infantry Battalion, Australian Imperial Force
William Dunstan was born on 8 March 1895 in Ballarat, Australia, and he was working in a drapery when war broke out. In June 1915, he signed up to the Australian Imperial Force and joined the 7th Battalion serving in Gallipoli. He was one of three Australian soldiers awarded the Victoria Cross for a particular act of bravery during the fighting at Lone Pine, Gallipoli on 9 August 1915. His citation reads:
For most conspicuous bravery at Lone Pine Trenches on the 9th August, 1915. In the early morning the enemy made a determined counter-attack on the centre of the newly captured trench held by Lieutenant Tubb, Corporals Burton and Dunstan and a few men. They [the enemy] advanced up a sap and blew in a sandbag barricade, leaving only one foot of it standing, but Lieutenant Tubb with the two Corporals repulsed the enemy and rebuilt the barricade. Supported by strong bombing parties the enemy twice again succeeded in blowing the barricade, but on each occasion they were repulsed and the barricade rebuilt, although Lieutenant Tubb was wounded in the head and arm and Corporal Burton was killed by a bomb while most gallantly building up the parapet under a hail of bombs.
Corporal Dunstan was invalided to Australia where he later had a successful career managing a newspaper group. He died in 1957.
Published 20 June 2016