The UK's miniature space tech pioneer.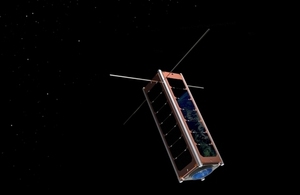 The UK Space Agency's pilot programme to design and launch a cubesat – a miniature cube-shaped satellite that will allow the UK to test cutting-edge new technologies in space – is nearing completion. The spacecraft is being built for the Agency by Clyde Space Ltd, and will fly four payloads developed by UK industry and academia and selected from over 20 high quality proposals received. The payload includes FunCube, an educational payload built by AMSAT-UK, with the goal of enthusing and educating schoolchildren about space, electronics, physics and radio.
UKube-1 is seen as the pathfinder mission for the Agency's proposed national cubesat programme, with one mission every 18 months.
It is envisaged that the national CubeSat programme will not only increase the UK's ability to market new space technologies; it will also provide hands-on, real-time training and research opportunities for the next generation of space engineers and scientists, at relatively low-cost and within a short timescale.
UKube-1 is an exciting and novel collaboration between the UK Space Agency, industry and academia. The funding partners for UKube-1 are the UK Space Agency, the Technology Strategy Board and STFC. The spacecraft is being developed through a Knowledge Transfer Partnership with innovative Scottish company Clyde Space and the University of Strathclyde, supported with internal funding from Clyde Space. The UK's largest space company, EADS Astrium Ltd, is providing engineering and programme management support to the Agency for the pilot programme. UK industry and academia are providing the payloads and the ground support operations and the launch will be procured by the UK Space Agency.
The spacecraft successfully completed its Flight Acceptance Review.
UK space company involvement
The following companies are involved with UKube-1.The UK Space Directory is a useful resource for contact details. Bright Ascension
A space technology company providing off-the-shelf products and bespoke services. They engineer innovative solutions for a wide range of applications both within and outside the space industry. As the lead software developers for UKube-1, Bright Ascension are creating the onboard software for the Ukube-1 spacecraft, as well as the core ground segment software technology. Their software will be responsible for running the spacecraft, especially when out of radio contact; communicating between space and ground; and providing operators with command and control functionality. DS SolidWorks Corp.
DS SolidWorks Corp. is proud to sponsor any student team that competes in any design competition by providing free software to each team member. Invotec Group
Invotec Group is one Europe's leading independent manufacturer of time critical, high technology printed circuit boards. Their financial, human and technological resources make them a leading player in the production of sophisticated PCBs, and position them as an extension to their customers' engineering, design, manufacturing and logistics operations. Isotron
Isotron is well known in the space industry as a provider of radiation testing services for electronics and materials for use on satellites. They have a range of irradiation facilities, covering total dose, electron and proton environments, specialising in fast response testing to meet the short timescales required for many missions. Isotron is providing these services free of charge to payload providers on UKube-1 and will be working to ensure that their equipment will survive the harsh environment expected in orbit. Steepest Ascent
The SA Mission Interface Computer development was not ready in time to be integrated as the main onboard computer, and will now fly as an experimental payload, with the aims of providing next generation onboard computing capability and demonstrating the feasibility of updating the main processoing fabric in-flight, allowing future novel concepts to be supported including the re-purposing of an entire platform to a new misison. Xilinx
Xilinx Virtex(R) FPGAs are in high demand for space applications, due primarily to their very large capacity for signal processing and their in-flight re-programmability. UKube-1 provides an excellent vehicle for Astrium to thoroughly test Virtex FPGAs in space and validate their use for future missions.
Published 28 April 2014