UK-led ARIEL will study the atmospheres of approximately 1000 planets lying outside our solar system, helping scientists understand the key processes which form planetary systems and affect how they evolve.
Overview
Thousands of exoplanets have now been discovered with a huge diversity of masses, sizes and orbits, but very little is known about their chemical composition, formation, or their evolutionary links to their host stars.
ARIEL (Atmospheric Remote-sensing Infrared Exoplanet Large-survey) will carry out the first ever large-scale survey of exoplanets specifically to examine and characterise their atmospheres. By returning statistical volumes of data for the first time ARIEL will highlight trends and correlations between planets and their systems to answer the following science questions:
What are exoplanets made of?
How do planets and planetary systems form?
How do planets and their atmospheres evolve over time?
During its 4-year mission, ARIEL will survey a diverse sample of about 1000 extrasolar planets, simultaneously in visible and infrared wavelengths. It is the first mission dedicated to measuring the chemical composition and thermal structures of hundreds of transiting exoplanets, enabling planetary science far beyond the boundaries of the Solar System.
The UK leads the science and overall coordination of the ARIEL payload development consortium, which is comprised of more than 50 institutes from 17 European countries, including France, Italy, Germany, the Netherlands, Poland, Spain, Belgium, Austria, Denmark, Ireland, Norway, Sweden, Czech Republic, Hungary, Estonia and Portugal.
UK funding and roles
UK Space Agency has initially committed £3M to support UK teams during ARIEL's study phase up to November 2020. With further funding to be agreed once the study is complete.
UK Space Agency investment supports:
The mission's Principal Investigator at University College London, Professor Giovanna Tinetti, who will lead ARIEL's science development
STFC RAL Space, which will manage the overall European consortium building the payload, to be assembled and tested in Harwell, Oxfordshire, as well as development of the payload's £5.5M cryogenic Active Cooler System
University of Cardiff – UK Co-Principal Investigator Prof Matt Griffin, Common Optics & Calibration Source, Science ground segment preparation, Payload Scientist and payload performance simulation
University of Oxford – Optical and calibration ground support equipment
UCL-MSSL – Payload systems engineering support, mechanical ground support equipment
STFC UK Astronomy Technology Centre – Common optics, and detector system engineering lead.
UK industry can also expect to be involved in the satellite's construction and operations via commercial ESA opportunities.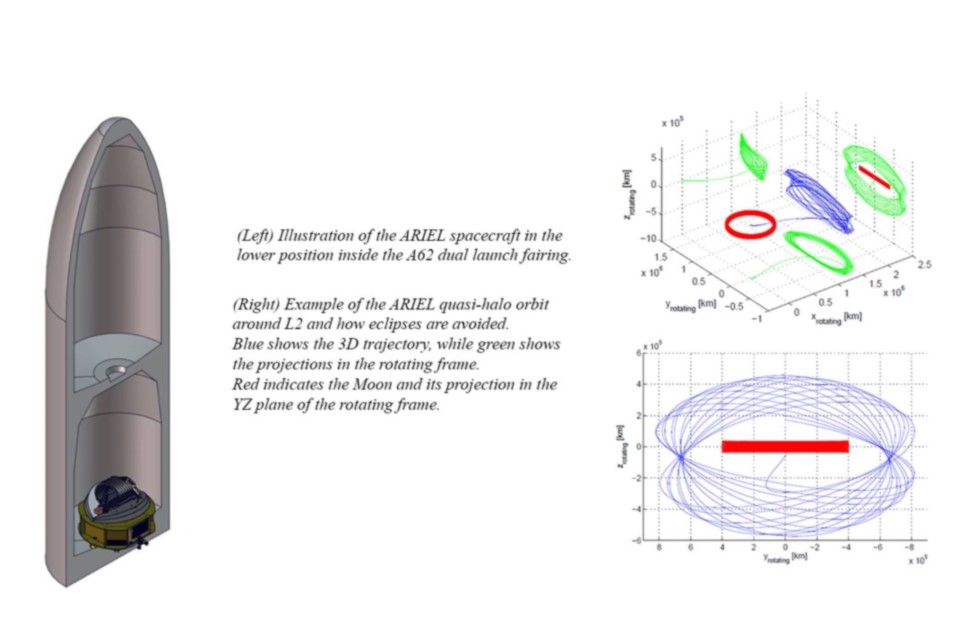 Current status & next steps
ARIEL proposal selected by ESA in March 2018 as fourth Medium Class (M4) mission in its Cosmic Vision programme
Intermediary payload design consolidation review completed in May 2019
Payload Systems Requirements Review due in February 2020
Mission adoption due November 2020
Launch date early 2028
UK benefits & impact
Leadership of ARIEL puts the UK at the heart of the next logical step in exoplanet research as it evolves from discovery to characterisation of targets.
Strong commercial interest in synergies between ARIEL detector characterisation work and new ultra-low dark-current mid-infrared detectors led by Cardiff University.
Opportunities for UK industry in Active Cooler System development work and payload detector technologies – developing solutions for ARIEL that can be reused in the future for other applications.
Significant educational and outreach potential, to attract and develop the next generation of scientists and engineers – the discovery of 2000+ exoplanets in recent years is a major achievement in modern astronomy and resonates strongly with the general public.
Further Information
Published 9 April 2019