Case study
UKTI in at the start of export growth for Playdale Playgrounds
Playdale Playgrounds has used several UK Trade & Investment (UKTI) services to prepare to export, and grow its overseas business.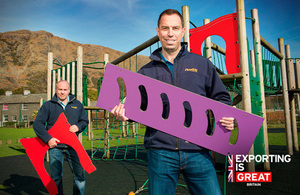 Over the last 35 years, family-owned business Playdale Playgrounds has built over 17,500 playgrounds around the world. The company really began to focus on exporting around four years ago. Its first step was to contact UKTI for advice about how to get started.
A UKTI International Trade Adviser (ITA) recommended joining Passport to Export, the UKTI programme that helps businesses to prepare for international markets. Since then, Playdale has used UKTI's Overseas Market Introduction Service (OMIS) time and again to find out about new markets.
UKTI reports back on market size, child population statistics, whether there is a demand for the company's equipment, what health and safety requirements apply and to identify potential local partners. UKTI has also provided funding through its Export Marketing Research Scheme (EMRS) to fund research visits to several countries.
Success in Singapore
In January 2013, Playdale commissioned an OMIS about Singapore. The report listed potential distributors, landscape architects, health and safety bodies, local authorities and schools. Barry flew out to Singapore in May and the local UKTI team scheduled a busy week of meetings for him. They also went along with him to most of them, to make face-to-face introductions and show UKTI's support. The visit was a great success:
Playdale appointed Playwkz Culture Singapore Pte Ltd to be its exclusive local distributor and went back to carry out product training in August 2013
Tanglin Trust School placed an order for playground equipment worth £40,000. Several other enquiries have followed.
Playdale has also used other UKTI services to help it build a network of distributors, and trade missions to India and the UAE have seen the company take its first steps into these countries.
UKTI video case study for Playdale Playgrounds
Barry Leahey , Sales & Marketing Director of Playdale Playgrounds Ltd. says:
Passport to Export gave us useful pointers about how to start exporting," says Barry Leahey, Sales and Marketing Director of Playdale Playgrounds Ltd. "Even now that we have more confidence to approach new markets, we still get a lot out of UKTI's workshops, market-specific 'how to do business' guides and the in-country support of its local teams.
As well as OMIS and funding for market visits through EMRS, we've found trade missions to be incredibly useful. All this support comes at an affordable cost and the information that we receive is great value. Without UKTI and our exceptional ITA in the early days we would not have progressed as far as we have today.
Published 29 May 2014