Case study
UK government helps Intent Media open new headquarters in London
Guidance and introductions from UK government helped US-based Intent Media set up in the UK.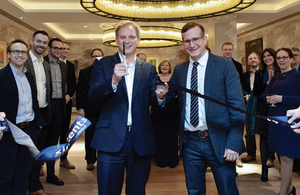 This company was assisted by UK Trade & Investment (UKTI), which has since moved to the Department for International Trade (DIT).
US-based technology company Intent Media has established its European headquarters in London. Over the next 2 years the company plans to use its office as a gateway to Europe, creating around 50 new jobs in the process.
Looking abroad
In late 2013 Intent Media started thinking seriously about a European presence, and in January 2014, contacted a UKTI adviser.
The services that UKTI went on to provide included:
general advice and guidance
referrals to lawyers and accountants that specialise in helping companies set up in the UK
an introduction to UKTI's regional affiliate, London and Partners, which helped the company find temporary office space
Damon Tassone, Co-Founder and Chief Revenue Officer at Intent Media, said:
The support that UKTI offered was a large part of the reason that we decided to set up our European headquarters in the UK.

UKTI always had the answers to our questions, or the name of an expert we could consult. They really smoothed the way for us and made setting up in London easy. Their help has put us 6 to 12 months ahead of where we would have been otherwise.
Grand opening
In January 2015, Intent Media officially opened its European headquarters in London's SoHo. The company has already signed contracts with new clients and advertisers in the UK.
In the coming months, it plans to use its UK office as a launch pad to Europe. It is looking to hire at least 15 people in 2015, and expects to expand its staff by double this amount in 2016.
Damon added:
The speed with which our business has grown and the potential for further growth has exceeded all our expectations.

I would advise any company that is considering investing in the UK to engage with UKTI early in the process and to leverage their support as much as possible. They have tremendous expertise that is unmatched by any other organisation.
Intent Media
Intent Media has built a platform that enables travel e-commerce sites to turn shopper behaviour into new revenue streams. It employs predictive analytics to anticipate whether a shopper is likely to buy on a site. If not, a relevant ad is shown to help the shopper get where they are going next, which is often to a competitor.
The original site benefits from a new advertising revenue stream and the advertiser gets access to shoppers looking for the products they offer.
Intent Media powers ads on travel websites including ebookers.com, lastminute.com, Orbitz, CheapTickets, Hotel Club, Travelport and Hipmunk. Advertisers who use the platform include airlines, hotels, online travel agencies and others that aggregate travel booking search results.
Founded in 2009, the company is based in New York, where it has a staff of more than 100.
Fast facts
| | |
| --- | --- |
| Company | Intent Media |
| Industry | Creative |
| Country of origin | USA |
| Investment location | London |
| Website | www.intentmedia.com |
Published 3 March 2015