Case study
UKTI helps ASCO prepare winning bid for contract in Tanzania
UK company ASCO Group who provide oilfield support services won a £60 million contract to support offshore exploration in Tanzania.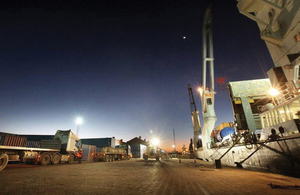 In late 2013, ASCO Group was awarded a 3 year £60 million contract at the port of Mtwara in Tanzania.
The company will supply services for British company BG Group. ASCO will also provide warehousing, vessel loading, pipe yard storage and facilities management for Statoil, Petrobas and Ophir.
In 2010, ASCO became aware of a business opportunity to tender for services to support BG's offshore exploration programme in Tanzania. They had no business relationships in the country and contacted UKTI to find out about the support that was available.
Donald Michie, Business Development Director at ASCO, says
The UKTI team in Tanzania understands the dynamics of the local market. They facilitated conversations for us not only with the Tanzania Ports Authority, but with other people who were on the periphery of the contract.
This helped us to build up a fuller picture of what this project really entailed, the concerns of the local government and community and the contribution we could make to broader social issues, such as education.
From this information, we were able to include several 'value-add' elements to our proposal, which were appreciated by the decision makers.
Building relationships
Before bidding for the contract, UKTI introduced ASCO to the Managing Director of the Tanzania Ports Authority (TPA), the Minister for Transport and other key decision makers. UKTI also provided market information and advised on cultural issues.
UKTI continued to help ASCO develop its relationships in Tanzania after they won the contract. UKTI arranged a meeting between the company and Jakaya Mrisho Kikwete, the President of Tanzania and his delegation during his visit to the UK in April 2014.
Donald Michie says,
Relationships are crucial to generating business success. With UKTI's backing, we always hope to stay ahead of the game.
Winning contracts in East Africa
ASCO's winning bid includes a focus on local content which aims to boost the local community and economy. The plan includes:
recruiting local staff (89% of workforce achieved)
developing partnerships with local Tanzanian companies
initiatives to work with the local community
Future business in Zanzibar
ASCO asked the UKTI team in Tanzania to arrange a visit to neighbouring Zanzibar in November 2013. This could help the company understand the oil and gas opportunities.
UKTI arranged for ASCO to meet important contacts in the public and private sector. ASCO is now well placed to keep up with developments in this market and expects to bid for tenders in the future.
Donald Michie says,
"UKTI continues to identify opportunities for us to raise our profile and connect with relevant local stakeholders. They knew who we needed to speak to in Zanzibar and made sure we got face-to-face time with them."
Fast facts
Company: ASCO Group
Industry: Oil and gas
Target Market: east Africa
UKTI Services: Market Visit Support, Overseas Market Introduction Service
Website: www.ascoworld.com
Published 7 August 2014