UKTI helps Arup finds new projects in Mexico
With support from UK Trade & Investment (UKTI), global design, engineering, planning and consulting firm Arup has expanded its business in Mexico.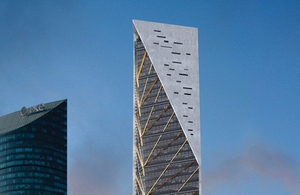 As a result, it is now preparing to open a permanent office in Mexico City.
UKTI support
Arup has been working in Mexico on a project-by-project basis since the 1990s. It has worked on some of Mexico's most exciting design and infrastructure projects, including the avant-garde Soumaya Museum in Mexico City and the Torre Reforma, a 57-storey tower which, when completed in 2015, will be the tallest and greenest building in Latin America.
The firm has long had a close relationship with UKTI. So it was only natural that in 2012, when it became more active in Mexico City, Arup got in touch with UKTI there to find out how they could work together. UKTI's trade advisers travelled to Los Angeles that spring to meet with Arup's Mexico team in its home base.
UKTI offered the firm the following support:
regular market briefings
introductions to relevant business contacts in Mexico
information about local networking events
briefings on the Mexican Government's plans for future infrastructure projects.
UKTI has been proactive in ensuring that we have all the information we need to be successful in Mexico,
says Bruce McKinlay, Principal at Arup responsible for Mexico.
Their connections in Mexico City and Mexico as a whole are unparalleled and if we require an introduction, they are the first place we would turn. By participating in UKTI Trade Missions, including a market visit by Deputy Prime Minister Nick Clegg in 2011, we have been able to make use of their local networks. This has helped us to build relationships with Mexico's top officials in both the public and private sectors, which has given us a better understanding of the market's needs and ultimately led to new contracts.
Looking to the future
In March 2013, Arup opened a project office in Mexico City with six permanent members of staff. The firm, which has 10 tall buildings around Mexico City in design or construction, is now bidding on several major infrastructure projects across the country, including a new major airport and several rail contracts. Its success there has led the firm to begin preparations to open a permanent headquarters in Mexico in 2014.
Mexico is quite an exciting place to be doing business at the moment,
says Bruce.
UKTI's support has been vital in helping us establish ourselves Mexico and we look forward to working with them in the coming months as we grow our venture there.
Fast facts
| | |
| --- | --- |
| Company | Arup |
| Industry | Engineering |
| Target Market | Mexico |
| UKTI Service | Trade Mission, Advice and Guidance |
| Website | www.arup.com |
Published 19 March 2014