Case study
UK big data company named a Gartner Cool Vendor
Innovate UK-supported Gyana - founded by women in innovation ambassador, Joyeeta Das - recognised as a digital disruptor.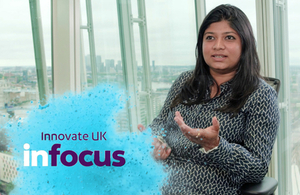 Gartner's Cool Vendors celebrates small businesses with innovative products or services that stand out from competitors. Previously the list has featured Instagram, Nest, Evernote and Dropbox.
Gyana's platform, GyanaAI, uses artificial intelligence (AI) to highlight trends across multiple, real-time data sources, including social media. Its inclusion as a Cool Vendor is particularly impressive, coming within 2 years of the company launching.
Commenting on the list, Joyeeta Das, Founder and CEO, says:
It's validated how the team has worked. It's testimony to them working every weekend for months and years, and still producing quality work.
Game changers: Women in innovation – Joyeeta Das, Gyana
Creating new partnerships
Gyana launched in July 2016, having attended 2 space entrepreneurial missions in 2015. These missions were supported by Innovate UK and the UK Science and Innovation Network.
During the missions, the company was able to meet with representatives from NASA to discuss potential projects. The space agency went on to become an early customer.
Joyeeta continues:
Data is a big part of the product. NASA had a lot of imaging data that they needed to categorise, and [the platform] did it faster.

In exchange, we were able to see what AI and data processes they had and got access to some public source data that we didn't realise we could access.
Supporting future female innovators
Joyeeta has continued to work with Innovate UK as one of the ambassadors in our infocus campaign for women in innovation. This is designed to support female entrepreneurs to grow their businesses and reach their potential by providing funding, business mentoring and networking opportunities.
Das says:
I was mentored by so many others when I was just a girl with a laptop and a desk.

I want to help people wondering where to go next. I want to reach out and empower and enable them.
Published 25 July 2017