Case study
UK architecture firm finds success in Bihar
UKTI India helps Studio DRA find a local partner and win design project contract for large residential development in eastern India.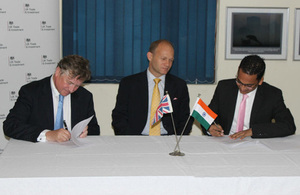 Studio DRA, headquartered in London, has won a contract for the master planning and design of a residential project in Patna, Bihar. This project could eventually become the largest residential development in eastern India.
UK Trade & Investment (UKTI) India helped Studio DRA identify a local associate, K Agrawal & Co., who will represent the firm in the eastern region of India. The local associate then introduced Studio DRA to important contacts in both government and industry, including the private developer in Bihar. This helped them secure the Patna contract.
Stephen Brice, Deputy Head of Mission, British Deputy High Commission in Kolkata said:
Studio DRA participated in the UKTI organised GREAT roadshow in Kolkata held earlier this year and we are glad that they have been able to find success. Eastern India offers tremendous opportunities and UKTI are here to help UK companies seize those opportunities.
Bihar project
The development in eastern India:
is to be built by a local private developer
will initially have over 1,000 residential units and over 1 million square feet built-up area
is a £30 million project
plans to increase build eventually by 4,000 to 5,000 units
Memorandum of Understanding (MoU)
Studio DRA recently signed an MoU with K Agrawal & Co in Kolkata in the presence of Kapil Handa, Managing Director of Studio DRA's Indian office.
Nicholas Sutton, Principal, Studio DRA said:
We are excited with our first win in Bihar and the future looks promising. Therefore we are also planning to form a Joint Venture (JV) with the local private developer and are jointly going to bid for large infrastructure projects in the state of Bihar.
Saket Agarwal, Partner, K Agrawal & Co, said:
Eastern India needs to implement smarter ways of building infrastructure which are not only aesthetically designed but also built for a sustainable & eco friendly future. There is a great need to implement efficient utilisation of space especially in the low cost and compact housing segment which can be replicated from the UK.
Studio DRA
Studio DRA is an internationally recognized architectural, masterplanning and interior design practice with offices in London, Dublin, and Delhi. It's working on a number of projects throughout Europe, the Middle East and India, including Kolkata.
The principals have over 25 years UK and international experience in:
commercial office design
urban regeneration
master planning projects
interior design
Contacts
Published 30 July 2014