Case study
Trinca-Ferro forecasts tenfold increase in turnover after UKTI help
Trinca-Ferro increases online sales after using UKTI's 'Export Communications Review' and 'Postgraduate for International Business' services.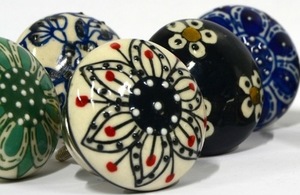 London based furniture accessories company Trinca-Ferro has grown their turnover from around £20,000 in 2013 to a forecast £200,000 for 2015 to 2016. This follows its use of UK Trade and Investment's (UKTI) services aimed at localising exporters' websites and employing expertise of foreign language speaking students.
Robert Lancaster, founder of Trinca-Ferro said,
The best aspect of working with UKTI was the practical, no-holds-barred advice given, helping us to see where the Trinca-Ferro website was and how to transform it into the site we wanted it to be.

Whilst tough to hear, it was very helpful and has certainly paid dividends.
Developing a global export business
From the outset, Robert Lancaster knew the company's market would be global. He turned to Garry Smith, a specialist Export Business Mentor from Advantage Business Partnerships Ltd, for support and advice.
Robert Lancaster said,
I told my Business Mentor that I wanted to find the best way to sell my drawer knobs globally through my website www.trinca-ferro.com, and he recommended contacting UKTI.
Robert Lancaster then met with Sarah Carroll from UKTI. After studying the company she advised him to use the Export Communications Review (ECR) Service as a means to improve Trinca-Ferro's communications with overseas markets.
Robert Lancaster also worked with Jack Porteous, London Language and Cultural Adviser, to determine what kind of language skills he needed to help his business.
Export Communications Review
Sarah reviewed Trinca-Ferro's website in light of Robert's international plans and gave clear, structured recommendations presented in a report.
Robert Lancaster said,
I knew straightaway that this was going to help us.

We were able to use Sarah's report as a checklist to show potential web developers – in fact we treated it rather like a brief.
Recommendations from the first ECR included:
creating country-specific directories on website for target markets
removing the digital translation facility so content could be written in a professional way in the local language
examining internal processes to ensure they worked for international customers, such as those relating to international delivery costs, returns and product cataloguing
creating a content engagement plan to ensure Trinca-Ferro's blogs, press, newsletters and social media were integrated and focused on developing the business
Implementing recommendations from the ECR report has helped to increase Trinca-Ferro's online sales. They've also started building country specific domain pages for their website to be localised in certain export markets.
Having implemented the advice of the first review, Robert was keen to take the opportunity to have a second, subsidised ECR,
One year later, our second review gave us the chance to check-in with Sarah on the changes already made and helped us to refine the site even further for international visitors.

She showed us how to make those finishing 'tweaks' to take our website to where it is today.
Postgraduate for International Business
Trinca-Ferro's prepared for entry into the German market by seeking to employ the expertise of foreign language speaking students based at UK Universities or Higher Education Institutions.
UKTI's Postgraduate for international Business service allowed a brief job specification to be sent to top London Universities.
Christian, a German speaking student, then joined the team.
His task was to help revamp the German website and assist the team in taking into account cultural differences and specificities to adapt product descriptions for that particular market. This was no easy task since Trinca-Ferro has a very complex website, with 700 different products, each with their unique description to review.
Robert Lancaster said,
Using the Postgraduate for International Business Service has been great. It's not always easy to find the right type of help with the right skills. UKTI has helped us do that.
He reckons that he will likely use the service again as he prepares to enter new markets.
Cultural adaptation pays off
Robert Lancaster realised that adapting the website to a new market in a new language can be a long and difficult process, but also that it eventually pays off.
Trinca-Ferro's improved website has transformed their export business.
Robert Lancaster said,
Already, our international sales have more than doubled this year.

Within a month of launching the new Australian directory, we are enjoying regular and growing sales and our USA site has just launched - we're anticipating great results.
About Trinca-Ferro
Robert Lancaster came back to London after running a successful furniture business in Brazil for 20 years. He founded Trinca-Ferro to specialise in selling their popular drawer knobs.
Using a purely online route to market, Trinca-Ferro's knobs are designed in London and exported directly from India to anywhere in the world.
Fast facts
Published 23 December 2015