Trade Mission leads to new distributor for Loadtec
A UK Trade and Investment Trade Mission to Vietnam resulted in Loadtec appointing a local distributor for its liquid handling solutions.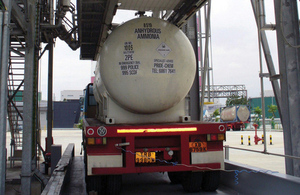 Early in 2013, Sue Keeler was introduced to UK Trade and Investment (UKTI) and an International Trade Adviser (ITA) was allocated to work with Loadtec on its export strategy.
The company joined an Oil and Gas Trade Mission that UKTI was organising to Vietnam at the end of October. In preparation for the visit, it had its brochures reprinted in Vietnamese.
The five-day mission included:
meetings Ministry officials, project engineers and buyers
a reception at the Consulate's Apartment
a press conference
Vietnam had long been on our radar,
says Alec.
The UKTI Trade Mission gave us the chance to get into the country and meet key people in the industry. The schedule was perfectly balanced and geographically spread. We certainly made the most of our time, with three or four meetings a day and travelling at night. It was very intense, but there was a real buzz about it.
Distribution deal
By the fourth day of the mission, Alec and Sue both felt sure that it was worth pursuing the Vietnamese market. They contacted a distributor that they knew with a regional office in Ho Chi Minh City. A meeting was quickly arranged on the way to the airport. A deal was agreed there and then and the basis of a relationship was established. Since then, Loadtec has already received its first enquiry and Alec will be flying out in February to carry out product training with the distributor's staff. Meanwhile, Sue continues to receive business alerts about opportunities to explore other markets. The company is currently considering joining another UKTI Trade Mission, this time to West Africa.
Our on-the-spot decision to appoint a distributor was based on hard facts and market knowledge that working with UKTI had given us,
says Alec.
We are very happy with the support we have had from UKTI and our ITA, and have no doubt that their assistance will continue to be useful to us as we grow our exports.
Loadtec Engineered Systems develops solutions for filling and emptying road and rail tankers with a range of liquids. Run by husband and wife team Alec and Sue Keeler, in 2013 the company had a turnover of over £4.5 million. Its staff of seven provides services to a wide range of businesses in the UK and overseas in sectors such as chemical, food and drink, oil and gas.
Fast facts
| | |
| --- | --- |
| Company | Loadtec |
| Sector | Advanced Engineering |
| Target Market | Asia, Middle East, Europe |
| UKTI Services | Passport to Export, Trade Mission, Market Visit Support |
| Website | www.loadtec.co.uk |
Published 19 March 2014