The Department for Education (DfE)'s Get help with technology programme
DfE supported disadvantaged children and young people by procuring technology to help them access remote education and social care during the coronavirus (COVID-19) pandemic.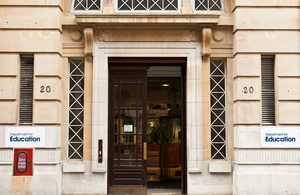 Customer
Department for Education (DfE)
Supplier
Computacenter (UK) Ltd working in partnership with Abzorb Group
Contract description
The Department for Education's (DfE) Get help with technology programme procured laptops, tablets and 4G wireless routers for disadvantaged children and young people who needed support to access remote education and online social care services during the coronavirus (COVID-19) pandemic. In April 2020, DfE had procured over 200,000 laptops and tablets and needed to secure 4G wireless routers (and associated data packages).
To maximise value for money, DfE sourced an alternative company to provide a roaming SIM.
Approach
DfE urgently engaged with the market, via a request for information, and discovered that the leading network providers could not offer a roaming SIM service. Responses from several providers were reviewed. An SME called Abzorb offered the best solution.
Computacenter and Abzorb provided 4G wireless routers to 55,000 pupils to give them access to remote learning during the COVID-19 pandemic.
Given the dispersed nature of the userbase, the SIM cards had to be issued with a service that utilised all 4 UK mobile networks. SIM cards had the functionality to switch automatically between networks, depending on the strongest signal in each area, ensuring each pupil received the best service available at their location.
Crucially, the internet service used the Netsweeper cloud content filtering service according to DfE guidance. The data provision across all SIMs was aggregated to provide data efficiently, wherever it was used, in the most cost-effective way.
Lessons learned
DfE needed to look at the whole of the market, importantly at the diversity of SMEs, to find innovation, expertise and value.
Contract delivery area
UK-wide
Contract value for SME
£2,897,400.00
Supplier experience
DfE asked the suppliers to feedback on the Computacenter process from their view.
In relation to the contract awarded, how did you find the procurement process?
Due to the urgency of the demand, the process was swiftly executed with strong collaboration between all parties.
What worked well and what could have been done better?
Transparency, and focus on a common aim meant that any issues were recognised and prioritised by all involved. This provided us with confidence that the needs were understood at all levels.
What benefit does your company receive from supplying to the public sector?
Computacenter is a strategic supplier to the UK government, and works extensively across central and devolved administrations, harnessing the power of IT services and solutions to meet customer needs.
What will be the outcome of the contract for the client?
This solution provided critical data services for children to continue their learning through the disruption arising from the coronavirus (COVID-19) pandemic.
How would you like to work with the public sector in the future?
Computacenter's public sector ambition is to help to make the UK a better and safer place to live and work by investing in UK talent to provide secure, resilient and scalable solutions that help improve the citizen experience in the UK.
Supplier fact file
SME
Abzorb Group Ltd.
CEO
Steve Beeby
Overview
Abzorb is a specialist integrator and distributor of mobile airtime and other telecommunication services. Abzorb uses its deep integrations with the mobile and fixed line carriers to design bespoke, large-scale deployments across the public and private sectors. Designing solutions that are carrier and technology agnostic allows Abzorb to provide unique solutions to its customers.
Examples of these solutions include:
SIM cards that roam on all UK networks automatically
routing mobile data traffic to cloud content filtering platforms
routing mobile voice traffic from mobile SIMs to customer VoIP telephone systems
utilising 4G and 5G connectivity to provide MPLS and SD-WAN networks
Abzorb customers further benefit from these integrations by having access to a comprehensive online toolkit. These tools allow administrators to make wholesale changes to their mobile phone and fixed line estates, including activating and deactivating lines, enabling and disabling roaming, and over 35 other network requests.
All requests actioned on the Abzorb Portal are actioned instantly on the network, using the Abzorb integrations built with each carrier.
Customers are further supported by being able to view live usage information online, anytime.
Company headquarters
Brighouse, West Yorkshire
Website
Social media
Annual turnover of company
£20m+
Number of employees
60
Type of SME
Medium
Published 29 April 2021