Case study
Telecoms SME increases turnover by £12m after winning gov contracts
Business telecommunications specialist, 4Net, have seen record growth thanks to winning a number of government contracts.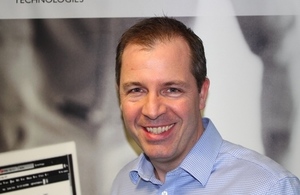 Background
Founded in 2006, 4Net Technologies are a specialist provider of digital telecommunications services based in Manchester. They have a team of 85 members of staff and over the last 3 years have increased their turnover by 297% thanks in part to their work with a range of government departments and wider public sector customers.
Breakthrough contract
The SME supplier initially bid and won a place on Crown Commercial Service's (CCS) Network Services framework in July 2015. Richard Pennington, managing director, 4Net Technologies, explains: "We felt that that we had something unique that we could offer to the public sector market. Being an SME means that we can be more agile in our approach than other, larger telecommunications providers. We also have much lower overheads, which means we can pass savings on to our customers, something which is a priority for government. We found the process of completing the tender to get onto the framework much easier and straight forward than we anticipated."
A tender was issued to provide a telephony system for Number 10, and following discussions with the department about its requirements for a bespoke, shared telephony service, 4Net successfully bid for the contract through a further competition process. It now provides a cloud-based communications solution called Antenna, a secure and scalable system for up to 350,000 users, based on the Number 10 platform. This has been rolled out as a shared service to a number of departments including Cabinet Office, Department for Digital, Culture, Media and Sport, and Her Majesty's Treasury and savings of up to 40% have been achieved over the course of the contract so far.
Working with government has helped 4Net Technologies grow its business
Since the Number 10 contract, 4Net Technologies has gone on to win numerous contracts with both government departments and wider public sector organisations. Richard comments: "We have been able to increase revenue by nearly 300% since we began supplying to government, and have more than doubled our headcount. 60-70% of our business now comes from public sector contracts. We have invested significantly in people who have experience in working with the public sector, enabling us to use our expertise to produce tailored solutions for our customers and position ourselves as specialists for the sector. The growth we have seen certainly proves that investment has paid off.
"Working with government, there are a lot of opportunities to build relationships and raise the profile of your business. It also provides opportunities to work on some really interesting and challenging projects to provide real value, which is very rewarding. Once we had achieved success in our first government contract, we then got referrals on to other departments with telecommunications requirements and that has really helped us grow. I would also say that working with CCS has been a huge benefit - their team have been very supportive and open minded."
4Net's advice for SMEs wanting to work with government
Richard's advice to other SMEs looking to bid for government work would be: "Persevere with winning your first contract and learn from the process. Be tenacious and really focus on what the customer is looking for - we've found that engagement with organisations pre-tender has really helped us understand their needs better. Believe in your proposition and once you have delivered a successful project, don't be afraid to ask for help from customers in promoting that success. Building relationships is key to growth."
Do you want to bid for and win government contracts?
Published 23 March 2018