Case study
Sunamp: firm takes new battery technology to vehicle market
A manufacturer of heat batteries is taking its innovative technology from the buildings industry to new markets in the automotive sector.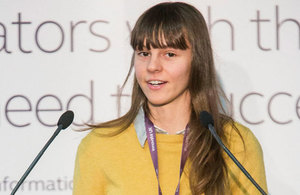 Heat battery manufacturer Sunamp has its eyes on new markets in Europe, North America and Asia-Pacific after developing new ways of increasing energy storage.
Sunamp developed a novel phase-change material with the University of Edinburgh. The Sunamp Heat Battery can store four times more thermal energy than a similar sized hot water tank.
Its smallest battery, SunampPV, works with solar panels and a gas combi boiler to save about £200 a year on household bills.
SunampPV provides enough hot water for more than two showers. It would take 15 Tesla Powerwalls – a competing electricity storage product – to do the same.
Business aims at global markets
The automotive industry is a logical new market for Sunamp. A car is essentially a room on wheels, with similar heating and cooling needs.
Sunamp's new automotive unit will bring research carried out through Innovate UK's low carbon vehicles programme to markets in North America, Europe and Asia-Pacific.
Published 25 October 2016