Case study
Success story: diamond-coated saws offer cutting edge in global market
£355,000 of Innovate UK funding has helped Cambridgeshire's C4 Carbides achieve a major breakthrough in industrial tooling.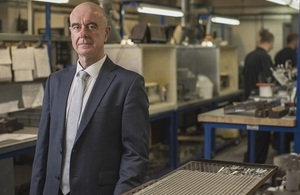 The world is running out of tungsten. As one of the hardest metals its ability to withstand extreme temperatures makes it essential for industrial cutting tools.
China, which produces more than 80% of the world's supply, has sharply curtailed exports. Russia, in turn, keeps 70% of its production for domestic production, leaving only five mines on the planet to supply global needs.
What if a replacement could be found and made widely available? For industrial tool manufacturers, it would have to satisfy tough criteria - unsurpassed hardness, temperature resistance and the ability to form an almost unbreakable bond with its base metal. Perhaps most importantly, production costs would have to be reasonable.
That could become a reality, thanks to C4 Carbides, a small Cambridgeshire company supported by Innovate UK. In 2003, the company adapted its existing brazing technology to fuse industrial diamonds to cutting blades, a major breakthrough. Founding director Peter Nicolson explained:
Our Eureka moment came when the development team tested a blade that would cut through cast iron, and it was four times quicker than the tungsten carbide version. We all stood there with our mouths open.
The strong bond between the diamond grit and metal substrate resulted in vastly improved cutting. The tiling industry was an early beneficiary but the new diamond blades could also cut through high-carbon steel and granite. Peter added:
The cutting surface has to be very straight, very tough and fatigue resistant.
Achieving the metallurgical qualities of the backing and the abrasive edge are the most difficult tasks, combining high-temperature engineering and surface engineering.
In early 2013, the company secured a £250,000 Smart award to develop a brazed diamond band saw prototype. The project was faced with a massive technical challenge - the diamonds had to be bonded to the steel in a way that maximised cutting performance. At the same time, it had to retain the flexibility and fatigue resistance of a steel band flexing several thousand times a minute.
The project followed a similar venture by C4 and the University of Hertfordshire which used a £105,000 Innovate UK award to research the diamond-to-steel bonding process. The company's success has now spawned a total of four Innovate UK grant-funded ventures totalling nearly £600,000.
According to Peter, Innovate UK funding has vastly improved the company's chances of competing with much larger players on an international scale.
Before Innovate UK came along, we were just a tungsten carbide company. Thanks to their funding we've turned to producing linear edge super-abrasives which have huge potential.
It has added two international patent applications to our portfolio and we've just appointed a new distributor in India to our list of outlets after expanding to Brazil in 2013.
The C4 diamond-coated product range has generated important new sales, particularly for the rigid hole saw and drill markets. The company already supplies diamond tools to major producers such as Bosch, Black & Decker, AEG and Hitachi.
China, Brazil and India are our three new targets in addition to our core sales which come from Europe and North America. We're 90% export.
Published 10 June 2015