Case study
StudentshIP case study: IP Game
A cohort of students from Lancaster University with an interest in game design developed the basic gameplay model.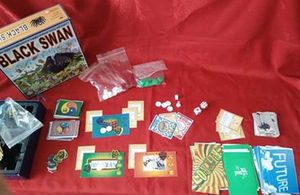 The project aimed to create a board game which teaches players indirectly about various types of Intellectual Property (IP). This helps them to determine their own values around IP protection and exploitation.
A small cohort of students with an interest in game design developed the basic gameplay model. The model was tested across the student body. A detailed understanding of IP was developed by building the various IP rights into the game mechanics and design.
We appointed a Project Co-ordinator who made great progress in driving the project forward. With the start of the new academic year, we launched a successful marketing campaign which drove student interest to the project.
Hackathon
We kicked off the project with an exciting "Game Hackathon". Students were invited to play a wide variety of board games across an intensive 2 day event. They were asked to 'deconstruct' each game after playing it. This helped them discern various game mechanics, designs, concepts, strategies and styles. This helped to form a basic foundation, and started the research element in a fun and engaging process for the students going forward.
Over 20 undergraduate students attended the Hackathon over the 2 days. Their academic backgrounds ranged from graphic design, to law, to marketing and more. Not only have the students increased their network of peers across the university, they have signed up to be part of this project and are keen to learn more about IP in order to work it into the game mechanics.
What the future holds
Following this we ran regular "Games Design Workshop" session. Students worked on the board game, coming up with ideas and testing them out as we moved through the various stages of the game's design, concept, planning, testing and production.
In order to aid our student volunteers in the process we have been in contact with numerous external industry professionals. These include Professor Richard Bartle of Essex University; James Wallis of Spaaace Games Consultancy; and Ben Williams of IP Quest among others.
Daniel Abreu, first-year design student said:
I thought I knew what IP was, but know I realise there is a lot more to it. But I'm really excited to be a part of this project, after all it's not every day you get to build and design your own board game!
Published 6 December 2016