Case study
StudentshIP case study: eChamps
The University of Southampton Student Enterprise Champions (eChamps) were tasked with raising awareness of IP.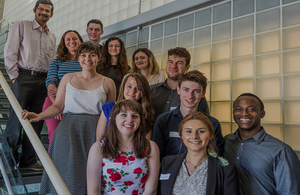 The project has used the funding from the Intellectual Property Office's Enterprise StudentshIP Awards to set up Student Enterprise Champions (eChamps). The eChamps were tasked with raising awareness and understanding of enterprise and IP among students, within and alongside the curriculum.
Nine students (eChamps), covering all eight Faculties at the University, worked on the project as a vacation placement from July-September 2015 and during term-time placement alongside their studies from October 2015 until March 2016. Their role was to review current undergraduate modules offered within the curriculum to identify existing and potential enterprise skills development opportunities, and to suggest new interventions to enhance the enterprise culture of the University. eChamps are also designed IP student workshops, based on the professional training they received from the IPO Masterclasses.
Over the summer vacation placement phase of the project, the eChamps came together for one day every fortnight to develop ideas and share findings. They successfully scoped the presence of enterprise skills development opportunities across all programmes. They have also undertaken market research into practice in other universities and shared with academic contacts in their Faculties.
The eChamps designed their 'ideal' enterprise and IP modules, as well as designing IP workshops for different sectors. At the end of the summer vacation period of their placement, representatives from the eChamp team presented their findings and outputs to date to the Pro Vice Chancellor Education. Regular reports on the progress of the eChamps are given at the University Enterprise Steering Group meetings.
A major success of this project is the impact on the eChamps themselves in terms of their development, as illustrated by the following student quote:
Natasha Dennington, Physics and Astronomy, eChamp said:
The main thing about the internship was learning about what enterprise and being enterprising meant. Early on in the internship, I learnt that enterprise didn't simply mean setting up a business or being an entrepreneur. Instead, enterprise is more of a set of skills that are appealing to employers and the ability to be innovative and creative. Being in my second year now, I was able to utilize these skills to secure a summer internship at a small start-up company, which in this increasingly more competitive job-market, is invaluable and I am thankful that a university is a great place to do so.
Go to https://www.youtube.com/watch?v=yJYvJ5LCUJc to hear from the enterprise champions talking about their experience, along with other student champions.
Professor Alex Neill, Pro Vice Chancellor (Education), University of Southampton said:
This StudentshIP Enterprise Award recognizes work that we can all be proud of. This work of the student Enterprise Champions is a good example of what we can achieve when we - students, academics and professional services – work together as members of a single and aspirational academic community.
Published 6 December 2016