Case study
StudentshIP case study: Creative Student IP
Nottingham Trent University opens its city site to celebrate Art and Design students' creativity and innovation.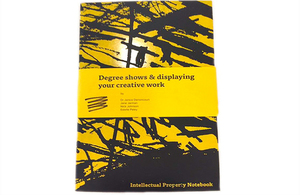 Background
Every year at its annual Degree Show, Nottingham Trent University (NTU) opens its city site to celebrate Art and Design students' creativity and innovation.
A Degree Show offers a wealth of opportunities for graduating students to interact with potential employers, clients and collaborators. It is therefore essential to equip them with an understanding of their valuable IP and moral rights to prepare them for their future careers as employees or entrepreneurs.
The Nottingham Creative IP Project aims to facilitate an understanding of IP issues by Art and Design students as they prepare to exhibit their work in an educational, yet simultaneously entrepreneurial setting. It provides clarification and early-stage answers to the most common IP challenges that arise when displaying creative work to the world at large.
What we did
We started the project with 19 law students attending the Readiness and Pre-Degree Show IP Health Checks on 19 and 21 May 2015.
This led to 11 law students delivering 17 IP Health Checks to Art and Design students and graduates. A further 4 pro bono legal advice appointments took place at the Nottingham Law School's Legal Advice Centre (LAC). This was offered to those Art and Design students whom the team identified could benefit from further legal support.
The process enabled our law students to understand in context IP challenges for young artists and designers who wish to exploit their creativity and innovative products. The Art and Design students and graduates from fashion, textiles, visual arts and product design disciplines all valued the opportunity to receive pro bono IP advice. As a result, they now have a better understanding of the IP in their work and how to protect and exploit those rights, while securing commercial opportunities.
To date, we have interacted with Art and Design students and graduates who are now curious about the importance of IP law and we seek to widen our reach. We determined that a targeted IP awareness publication tailored to creatives is key to meeting this demand.
The IP Notebook
A book proposal was submitted to Art and Design executive team in the University. Academic Team Leaders (ATLs) in the school, several alumni, recent graduates and current students were identified to capture their experiences of IP in exhibiting their work and taking part in competitions. Our focus was to deliver content supported by a strong visual identity. This would make the book accessible, engaging and informative. We knew from experience this is critical.
The IP Notebook was published in June 2016 and distributed to the School of Art and Design at the Degree Shows. It will also be available electronically on the student online portal.
Finally, the Nottingham Law School team has delivered two presentations to Art and Design academic team and course leaders and various lectures to students embedding IP awareness in the curriculum. Members also delivered IP awareness lectures on various Art and Design programmes throughout the year.
Dr Janice Denoncourt and Nicholas Johnson, Director of the Legal Advice Centre, Nottingham Law School, Nottingham Trent University:
The Nottingham Creative IP Project provided Nottingham Law School students with commercial awareness of IP issues and the challenges facing Art and design businesses. Our new IP Notebook, tailored to the needs of creatives, enhances the legal literacy of NTU Art and Design students and provides advice on how to set up their own businesses.
Published 6 December 2016