Case study
Strategic projects funded by the British Antarctic Territory
Each year the British Antarctic Territory (BAT) funds a number of projects that support our strategic objectives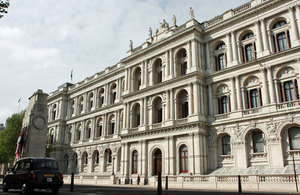 About our funding programme
The British Antarctic Territory (BAT) funds a number of projects each year across the following four priority areas:
Environmental protection and minimising human impacts
Education and outreach
Heritage
Governance and promoting UK sovereignty
For those interested in considering an application for BAT funding, all proposed projects should fall within under at least one of the four priority areas as outlined above and in more detail in the BAT Strategy document. The funding year runs from July to June and a bidding round is normally held each April. Please feel free to contact the BAT Government to discuss any potential projects. The bidding round is now closed. Look out for next year's bidding round in Spring 2014. To bid for project funding, please use our Project Bidding Form.
Below are examples of projects that have been funded by the BAT.
Compendium of Antarctic Peninsula Visitor Sites
The BAT supported the preparation of site specific guidelines for ten visitor sites along the Antarctic Peninsula by Oceanites Inc. in 2003 in order to assist tourism management at these sites.
Southern Ocean Cruising Handbook
The BAT Government supported a project undertaken by Environmental Research & Assessment on the development and re-publication of a Southern Ocean Cruising Handbook (second edition). The guide was aimed to make information on current environmental requirements in the Antarctic and sub-Antarctic regions more easily accessible to those planning a visit to the region.
Wildlife Awareness Manual
The Wildlife Awareness Manual helps to reduce the impact of flights in the Antarctic Peninsula / South Shetland Islands / South Orkney Islands region. The manual aims to assist pilots in avoiding concentrations of wildlife while carrying out essential support activities in the Antarctic.
Marine Protected Area Management Toolbox
The project, undertaken by the UK arm of the World Wide Fund for Nature (WWF), reviews existing Southern Ocean marine protected area (MPA) management plans and other relevant MPA management measures and develops guidance for the preparation of MPA management plans for BAT MPAs and also for wider application in the Southern Ocean as appropriate.
The project aims to produce a fact-finding and lesson-learning review of current management guidance for MPAs, and a web-based toolbox which provides guidance on MPA management for BAT and wider Southern Ocean MPAs.
Published 24 March 2013
Last updated 2 July 2013
+ show all updates
This year's current bidding for BAT projects has now closed.
First published.