Case study
Stephen – Without Shekinah I'd be in jail or out shoplifting
How Shekinah helped Stephen get a job and his life back after being released from prison.
This case study was withdrawn on
We have archived older case studies about social justice and published more up to date case studies.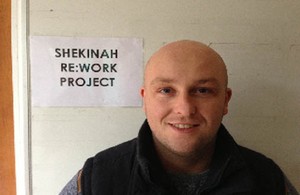 Stephen's extraordinary story
During his childhood Stephen's parents were both heroin addicts who stole to feed their habit. They moved around the country frequently, meaning Stephen rarely attended school and he left education at the age of 13 unable to read or write.
From the ages of 13 to 25, Stephen hung around on his local estate, smoking cannabis, getting into fights, shoplifting and selling the stolen goods to survive.
When he was 25 Stephen was sentenced to 2 years in prison for violent affray and £9000 worth of shoplifting.
I always knew from when I was a young lad that I was going to end up going away, it was just a matter of when.
After serving his sentence Stephen was released on an electronic tag. When his children were born he knew he needed to turn his life around but found it impossible to get paid work.
Because I was on tag and I'd just got out of prison… I couldn't find any work. I wanted to change my life… I tried to get a job and they all knocked me back. I went back to my probation in Torquay and I said 'You're asking me to change and I'm trying to make myself a better person, but every time I go for a job I'm getting told no because I've got this tag on my ankle' Probation put me in touch with Julie from Shekinah, and three weeks later she got me a job.
Shekinah
Shekinah is a local charity based in Plymouth and Torbay that supports people who are in poverty and experiencing multiple disadvantages. As well as co-managing a hostel, Shekinah also have accredited vocational and non-vocational training programmes. Stephen was helped by their employment programme: Re:work Socially Responsible Employment Service, a social enterprise set up with seed funding from Torbay Development Agency.
Re:work finds candidates employments and work placements by working in partnership with around 15 local businesses from a range of sectors, including SMEs and national companies with local outlets. Soo Brizell-Hogg, Employability Manager at Shekinah, explains how Re:work helped Stephen.
We don't just find someone a placement, we'll make sure they're ready for work, address any barriers they may have, and then we'll provide continued support to both the candidate and the business. Upon completion of the placement we discuss possible future employment outcomes and then ensure an integrated programme of support for both candidate and business for up to 12 months to ensure a sustainable employment result.
Working to reduce barriers such as addiction or mental health issues can often be challenging.
We don't claim to be the experts in everything… we work really closely with other specialist organisations in a really collaborative way that adds value to our candidates.
Soo is proud of the outcomes achieved by Shekinah's partnership working.
We don't do this on our own, we work very closely with Jobcentre Plus, we have Job Coaches from local businesses… there's a real network of support for those who come through Shekinah's employment programmes, and I think that's why we're successful.
What this means to Stephen
For Stephen, this success meant a chance to change his life completely.
I'm just happy that I've changed. You've got to want to change as well, but sometimes all you need is an opportunity. If someone shows you the right way and says 'You're a good worker and you can do this', it builds your confidence.
It's not just an employee who can feel the benefit of this second chance, Soo finds that businesses can also benefit.
By using a programme like ours they are diversifying their recruitment methods and therefore opening up the possibility of recruiting different individuals with possibly better skills, because regardless of someone's past issues or complex history, our programme works with some of the most talented and inspiring individuals I could ever wish to meet.
Stephen began working for a demolition company and found immediate improvements in his home life, as well as the chance to be a role model to his children.
It's very positive. It's positive for the kids, and for my relationship. The time I get with my kids I appreciate it a lot more than when I was just sitting at home. What was normal to me before was just doing nothing. . It's all I'd ever really known, was crime… with my parents doing drugs, that's how they made their money, and that's just what I was taught. Obviously with my kids now I want them to know different, and that's why I'm putting my head down and I'm grafting hard.
Stephen is now a demolition operative. His employer has put him through Demolition Operative training, helped him gain a Plasma Certificate that qualifies him to erect aluminium towers and a PTS certificate so he can work on railway lines.
I want to be a manager in the future. I wouldn't have been saying this two years ago… I wouldn't have even gone to the interview, because it's just embarrassing when you're told no.

If I'd never met Shekinah, I'd either be committing crime now, for money, or I'd be in prison. I know for a fact I'll never go back to jail in this lifetime. I genuinely feel like I've got my life back.
Published 18 June 2013