Case study
St Wilfrid's Centre – we help people realise their value as a person
How St Wilfrid's Centre brings together the homeless, vulnerable and socially excluded and helps them towards a better future.
This case study was withdrawn on
We have archived older case studies about social justice and published more up to date case studies.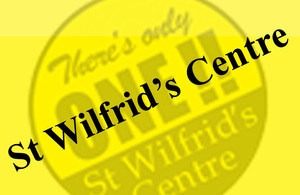 Kevin Bradley, Director of St Wilfrid's Centre explains how they help to give vulnerable people in Sheffield a sense of belonging. The Centre brings together the homeless, vulnerable and socially excluded and helps them towards a better future.
The St Wilfrid's Centre story
St Wilfrid's Centre helps to give vulnerable people a sense of belonging. We aim to increase their confidence, self-esteem and self-worth by helping them to realise their value as a person and what they have to offer others and society. We provide training to improve their basic skills including numeracy and literacy as well as more practical skills including cooking and learning to tell the time. This increases their independence and their chances of getting a job. Our clients come from all walks of life and need help with a variety of issues. They may be homeless, have mental health problems, be asylum seekers or vulnerable adults. Many of them try the statutory support system but in many cases this fails to work and it can leave them feeling that they are in a worse situation than before. When they come to us having tried various other services, it could be their last chance to turn their lives around.
Everyone has a gift to give
We are different because we look at people individually. We think about their varied past and complex needs rather than categorising them based on their issues. We are able to help them to see where they have been and how the barriers they have faced previously are not insurmountable and shouldn't dictate their future. For many, just coming here and asking for help is a huge achievement. Lots of people who arrive here have been told for years they have nothing of value to give to society. They feel that they have no skills and they lack the basic confidence to interact with anyone, staff or fellow clients. We aim to show them everyone has a gift to give, a skill to share and by encouraging clients to support one another through their challenges, each person gains confidence and a sense of worth, something that we are all in need of.
Skills workshop
The Centre has a skills workshop where clients make the goods we sell in our gift shop which also provides experience with retail and interpersonal skills. The money generated from the products made by clients goes straight back into improving the services we have to offer. We are well known for our handmade football clocks and also make a wide variety of items from wooden rocking horses to jewellery, advertising banners and bespoke products for the NHS. Everything is produced and packaged on site by clients. Other skills they learn can include operating various industrial machinery and high tech laser cutters.
Rebuilding confidence
We work with many organisations to help our clients get the specific help they need. This can be anything from life skills to dental treatment; helping our clients to rebuild their confidence. We also help them attend lifestyle sessions which are aimed at helping vulnerable adults to gain confidence when faced with difficult situations. This training is scenario based and shows individuals, using role play, how to deal with situations including, doorstop lenders or who to turn to if they were mugged. Acting through these scenarios in a safe environment helps our clients to feel secure, confident and prepared for the future. Here at St Wilfrid's we see the person and we help them to see they have something of value to offer. They all arrive with their own stories, experiences and problems. We help them to improve their own future. Without us their problems would only get worse, but we seem to have found the secret of making people feel better.
Residential facility
Going forward, we are raising funds to build a 50 bed residential facility. People living at the project will attend the day centre Monday to Friday where we will help them to learn to live independently. They will stay in the Residential for up to two years and then hopefully we will help them move into a flat or their own accommodation while still receiving support from St Wilfrid's. This additional facility will allow us to help more people move closer to a bright, independent future.
Published 16 April 2013