Case study
SME doubles workforce after winning government contract
London based small business Securestorm, increased their workforce, profit and turnover after winning a government contract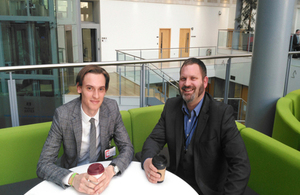 Securestorm, a small digital business based in London, offer cybersecurity consultancy services to customers throughout the UK. Co-founder of Securestorm, Tony Richards, is a cloud and cyber security expert who's passionate about the big difference cloud computing and digital transformation can make to organisations.
In 2012, Securestorm had their first experience of working with government when they won a place on the G-Cloud 2 framework. Tony Richards said:
Prior to applying for a place on the G-Cloud framework we'd never bid directly for any government work. Initially there were quite a lot of questions to answer, which involved us really understanding our own business, but ultimately we found the experience to be extremely useful. I'm also pleased to say that the process for winning a place on new agreements is now much simpler.
Securestorm's first assignment under the G-Cloud agreement was to deliver security consultancy to the Youth Justice Board, which led to a long lasting work relationship and big benefits for Securestorm's business.
The results
Winning a government contract meant a regular supply of work for Securestorm which enabled them to expand their workforce by 50%, as well as increasing their turnover and improving their profit. In 2015, Securestorm were able to hire their first apprentice and have strong plans for 2016 including, expanding their partner network, recruiting for more cloud security professionals and developing more thought leadership in digital information risk management.
Tony's advice for winning government business
Ask people from the organisations that are already supplying government for their advice. Also get in touch with those partners and organisations that have specialist knowledge and exist to help businesses in your sector. Securestorm is a member of Tech UK and their support has been invaluable. There's lots of advice out there so use it.
Get involved
Government is Open for Business
The government wants to buy from small and medium sized enterprises (SMEs) every time they are the best value for money. To find out more about how your business could benefit and read more top tips on bidding for government contracts visit our online guide for SMEs
Published 12 April 2016