Case study
Seating Matters: new chair technology is a life changer
Innovate UK supports specialist seating firm to develop new chairs that reduce the problem of pressure sores in older and disabled people.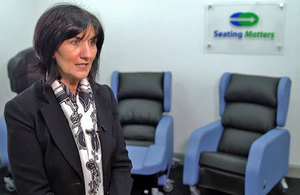 Northern Ireland chair technology saves lives
Research shows that 60% of older people with a pressure ulcer die within one year. Northern Ireland company, Seating Matters, has collaborated with researchers at Ulster University to identify the importance of suitable seating provision in reducing the incidence of pressure ulcers and postural difficulties.
Company founder and clinical director, Martina Tierney, is also an occupational therapist. She knew that the chairs the company manufactured were having a positive impact on the people using them. But she needed clear clinical evidence to quantify and prove these benefits.
Partnership with university brings new knowledge
Seating Matters took part in a Knowledge Transfer Partnership (KTP) with Ulster University. The KTP scheme works as a 3-way partnership between a business, an academic institution and a graduate. The university or college employs a recently-qualified graduate who works at the company. The graduate, known as the 'associate', brings new skills and knowledge to the business. Invest Northern Ireland (INI) co-funds the scheme in partnership with Innovate UK.
The Ulster University associate spent 2 years with Seating Matters, assessing users and gathering data. This enabled the company to build a strong evidence base for how its technology could improve the quality of life for its users. Martina explains:
This evidence is really important for occupational therapists to be able to justify the procurement of this equipment. Having the evidence means that we've seen an increase in sales because we were able to justify that our chairs were going to do exactly what we said they were going to do.
Clinical trials lead to worldwide expansion
Taking part in the KTP increased awareness of the company and helped it to expand worldwide. The company now sells chairs across Europe, to Australia, Canada and the USA. Martina comments:
The results of the KTP Research Project were very substantial for our business and for the patients using our therapeutic seating. Since the launch of this research, clinicians have used the outcomes to justify the use of our therapeutic chairs in nursing homes and hospitals across the world.

The research also played a key role in helping Seating Matters to win a contract with the VA Medical Centres in the USA. This is the largest hospital system in the world and we now supply their facilities with our clinical seating, supported by strong clinical evidence showing they can reduce pressure injuries as a result.

Our aim is to change the world of healthcare seating. This research allows us to provide as many chairs as possible across the world so that we can actually improve people's lives.
Published 9 September 2016