Case study
School business professional helps school expand places by 25%
A school business professional secured £300,000 from a local authority to help a primary school build new classrooms and offer more school places.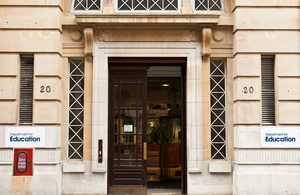 Ancaster Church of England Primary School in Grantham was a school with capacity for 140 pupils, when school business professional (SBP) Debra Moore helped headteacher, Sam Eden, secure £300,000 from the local authority to build two new classrooms, allowing the school to expand to offer a total 175 places.
Debra took up the role of Executive School Business Leader at Ancaster Church of England Primary School, having previously worked in a variety of different settings, including working across a cluster of small primaries. She attends all SLT meetings and is an Associate Member of the school's Governing Body. She also works with all staff to help them understand the many facets of her role, including that finance only accounts for roughly 20% of her total responsibilities. Her role as a strategic leader is clearly evident amongst staff.
The school had seven year groups but only five classrooms, meaning they had to turn away many children who approached the school because they were at full capacity.
Initially, Sam Eden had been informed of a £150,000 grant from Lincolnshire County Council to replace a temporary classroom, housed on the school playground. However, upon examining the funding criteria, funds available and the school's situation regarding admission of pupils who lived in the village but could not access their local primary school, Debra took the lead and orchestrated further conversations with the local authority to present a business case for additional funding to build a further classroom.
The business plan took into account the situation of the school, particularly focusing on the number of pupils Ancaster Church of England Primary School had to turn away each year. Having listened, and scrutinised their own data, the request via the local authority was successful and Debra secured £300,000 for the project, without undue strain being placed on Mr Eden's time.
Following the completion of the new build, Debra also ensured that the school set aside a marketing budget of roughly £6,000 to help fill the new places available thanks to the project, advising that the rewards would be far greater than the initial expenditure. The marketing, overseen by Debra, included a new logo, prospectus, website, posters and postcards sent to families in the area. As a result, all places at the school were filled within 18 months.
Though there are still mixed age classes at KS2, Ancaster Church of England Primary School has been able to significantly increase their school places alongside improving the overall condition of their school estate.
Sam said of Debra and the role she plays in his school:
A good SBP is invaluable to any school, regardless of size, and I would never go back to not having a school business leader. The role is crucial to the strategic running of my school as it frees the head to focus on teaching and learning. As a senior leader, Debra's contribution is just as important as that of my deputy head. I wish that more headteachers could see the value of the role.
Published 8 March 2018