Case study
Rare Pink wins business overseas with help from UKTI and CBBC
Online diamond company Rare Pink's business is now 30% export based after working with UKTI and CBBC.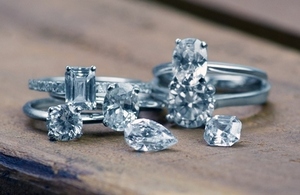 UK Trade and Investment (UKTI), the China Britain Business Council (CBBC) and other partners have worked together to help Rare Pink to develop its overseas business.
30% of Rare Pink's business is now export orientated as a result of selling to markets from New Zealand to Los Angeles.
Nikolay Piryankov, co-founder and Chief Executive Officer (CEO), of Rare Pink said,
We can attribute 40% of the business' revenues have come as a result of the support we had from UKTI.

I would advise any small business looking to grow, the global economy is set up in such as way players of all sizes can be involved.

UKTI are there for the smaller guys to get British businesses on the international map. All start-ups need to think global and UKTI is good place to start.
Setting up in Hong Kong
Rare Pink had first approached UKTI in 2012 for help to research setting up a new base in Hong Kong.
Hong Kong is an important jewellery and stone hub in Asia, with close proximity to sources such as India and big buyers such as China. The company needed a base to support the retail part of the business enabling for wholesalers to connect with suppliers in the diamond trade.
Rare Pink joined UKTI's Passport to Export programme. Through this they accessed the advice and contacts needed to enable the company to approach the market.
Nikolay Piryankov said,
We knew from day one we needed to go global. Starting off as a micro-business, going international was daunting. A part of the fear for small businesses is the knowledge gap.

It was only when we got involved with UKTI through the Passport to Export programme, we realised how easy internationalisation could be.
UKTI introduced Rare Pink to its partner organisation for the China region, the China Britain Business Council (CBBC).
CBBC helped Rare Pink set up a base in Hong Kong. This now acts as an intermediary to buy wholesale diamonds and gives access to the supply chain. CBBC also helped with practical matters such as visas and bank accounts.
UKTI provided financial support to enable the company to go to Hong Kong via the Market Visit Support scheme.
Nikolay Piryankov said,
UKTI's help has enabled us to go international, and support our domestic growth too as a result of growing our business structure in Hong Kong.

We have a translated our website into Mandarin as a result of interest from our new base. We are continuing the get support through the Gateway to Global Growth programme to broaden our market reach.
Raising investment for further growth
Rare Pink approached the UKTI London Trade Team in 2013 for further help to raise capital to grow the business further afield. Their International Trade Advisor (ITA) introduced the firm to GrowthAccelerator.
Growth Accelerator provided help on methods of handling finance and suggestions for suitable access to finance streams. This included use of Seedrs, a crowd funding platform, which allowed Rare Pink to raise £195,000 from investors in April 2014.
Nikolay Piryankov said,
The capital raised from UKTI and GrowthAccelorator's assistance will help us increase our marketing budget which in turn will generate more sales.

In the creative industry branding is important and an area which we will focus on as part of our international development.
Rare Pink (Now Taylor & Hart)
Rare Pink is an e-commerce based company providing ethically sourced custom made rings and jewellery.
The business was set up by partners Nikolay Piryankov, David Sutton and Davide Chiminello. They moved it to London to be in the hub of the UK's creative industry.
Fast facts
Company: Rare Pink (now Taylor & Hart)
Industry: Retail
UKTI Services: Gateway to Global Growth, Market Visit Support and Passport to Export.
BIS Service: GrowthAccelerator
Website: https://taylorandhart.com/#rarepink
Published 24 November 2014