Case study
Radiological incident: London, England
The UK Government Decontamination Service's (GDS) involvement in a radiological incident.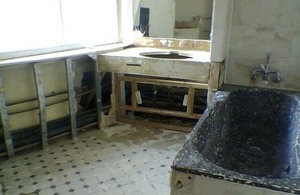 The UK Government Decontamination Service (GDS) was requested, via the emergency contact procedures, to attend the Cabinet Office Briefing Rooms to participate in a meeting of the Civil Contingencies Committee. It had been established that Alexander Litvineko had died as a result of ingesting a radioactive isotope identified as Polonium 210. Forensic investigation established a number of venues across London had been contaminated.
GDS opened its Emergency Operations Centre, based in Stafford, from where GDS involvement was co-ordinated. During the response phase of the incident GDS specialist suppliers were deployed to London, at the request of the Health Protection Agency (HPA), now Public Health England, to provide assistance with monitoring for health protection purposes.
GDS provided advice, guidance and access to the GDS framework of specialist suppliers to the Metropolitan Police Gold Command, and subsequently at the Recovery Working Group, chaired by Westminster City Council's Chief Executive Officer.
GDS worked closely with partners from Westminster City Council, Health and Safety Executive, Environment Agency, Department of Transport and the HPA on a strategy to deal with radioactive contamination arising from circumstances surrounding the death of Alexander Litvinenko. Decontamination work was carried out at 9 venues using a variety of methods including:
wiping impervious surfaces with tacky cloths
removal of loose contamination or more aggressive methods involving removal of the contaminated areas that exceeded the reference level provided by HPA
GDS has since commissioned each of the radiological contractors to document their involvement in the incident, to enable lessons to be learned. This information has been shared across government to improve resilience through enhanced planning. GDS has also reviewed its operational procedures to reflect lessons learnt.
Published 2 September 2014