Case study
PragmatiC: business wins major investment for flexible circuits
An electronics business that has developed flexible electronic circuits thinner than human hair has won £23 million investment from backers.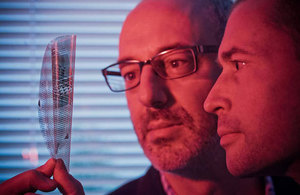 World leader in low-cost flexible electronics PragmatiC has developed a flexible circuit thinner than a human hair but with the processing power of a silicon chip.
The flexible circuits can be easily applied to or embedded in a huge range of everyday items. It may soon be possible to connect more 'things' than ever via the Internet of Things, thanks to this latest breakthrough. And the technology is on the verge of mass production.
Innovate UK awarded PragmatIC £2.5 million for various projects during the development process for the technology.
Business attracts £23.4 million private investment
The company completed a £5.4 million equity funding round in 2014 and secured another £18 million in October 2016, including a strategic investment from Fortune 500 company Avery Dennison.
The company's customers include multinational companies dealing in mainstream electronics, consumer goods, packaging and security printing, among other sectors, and numbers continue to grow. Its staff numbers more than doubled in the past year.
Published 25 October 2016