Case study
Perpetuum: self-powered rail safety technology drives jobs growth
Global rail market opens up to Southampton University spin-out with novel train wheel monitoring system powered by vibration energy device.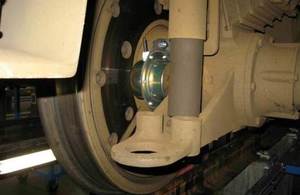 Nearly half of all sales are exports
Perpetuum wireless condition monitored maintenance
A fast-growing spin-out from Southampton University has used EU research funding and innovation funding through Innovate UK to further develop technology for the rail industry that is improving safety and reliability and delivering significant cost reductions.
This has established Perpetuum as a global market leader. More than 45% of the company's sales were exported in 2015 and this is expected to rise to 70% or more over the next 3 years.
Volume orders and trials of its self-powered condition monitoring systems for rail operators around the world have resulted in staff numbers almost trebling in the last three years.
Condition monitoring capability
Perpetuum's expertise is in understanding and using vibration This is employed in its proprietary Vibration Energy Harvesters to achieve 'power from vibration', enabling Perpetuum's condition monitoring solutions to be self-powered and therefore very easy to fit.
Perpetuum's condition monitoring capability is achieved through sophisticated analysis of vibration since this is a very early indicator of degradation, so providing 'information from vibration'.
By joining an EU-financed Framework 7 (FP7) consortium in 2011, Perpetuum was able to build on its core technology to design, develop and commercialise complete systems to monitor train wheel bearings. Partners in the project included Siemens, FIAT and a number of European universities.
The company realised that the system, which is quick to install and maintenance-free, could also monitor the condition of the rail track itself.
The next generation of Perpetuum's condition monitoring systems is now being accelerated through another EU-funded programme, Horizon 2020, as a €2.1 millon SME Instrument project begun last year.
Larger market opportunity
CEO Steve Turley said the project was critical to the future growth of the company:
It will deliver an enhanced product that will open up the market for rail freight and long passenger trains.
This will create a much larger market opportunity, especially in the US, Europe, India, China and Australia. It is central to our drive to maintain global leadership as the market expands and new competitors try to catch up on a worldwide basis.
There are already full fleet deployments of the system with the largest train operators in the UK, and trials are under way in Australia, Sweden, the US and Ireland.
The project has allowed us to be the front runner in a project to equip the railways in a major Asian country with condition monitoring and metro systems in two major US cities have also requested trials.
More high-quality jobs
Perpetuum expects to produce market-ready systems for freight and long passenger trains by the end of this year, with further enhancements being delivered in 2017.
This will complement the product that is already shipping to customers in Europe, North America and the Asia/Pacific regions. Steve added:
The project will create additional high-quality jobs and we expect a further doubling of the headcount by the end of 2018.
Perpetuum, founded in 2004, is backed by venture capital investors Environmental Technologies Fund, IP Group, Parkwalk Advisors and Albion Ventures.
Published 22 April 2016